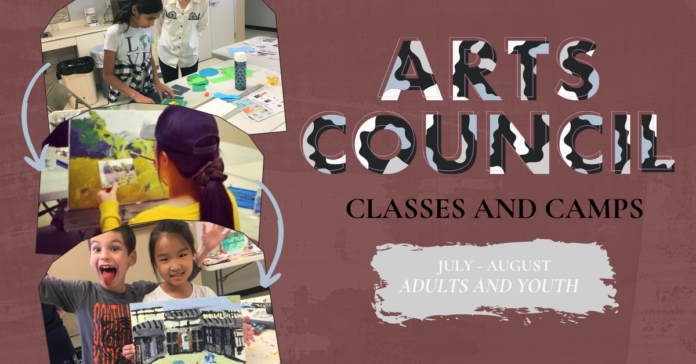 Whether you're looking for a creative outlet after a year of stress or are simply looking to expand your artistic skills, summer at The Arts Council of Brazos Valley has something for everyone! With classes for adults and children covering an assortment of art mediums and styles, you're sure to find your special talent.
As resident artist Apinya Srikhwanthong says, "It's very important to have art in the community." It's a way of bringing people together and making individuals more well-rounded. Check out Srikhwanthong's class for adults below!
Summer Classes for Adults Welcoming adults of all skill levels, these classes are an excellent way to try something new or hone existing skills. Not to mention the therapeutic value of creating something fun yourself. Every Saturday, July 10 through Aug. 7, the Arts Council will hold an adult class from 1-4 p.m. (with the exception of one that runs from 1:30 p.m.-3:30 p.m.). These classes cost $35 to $50 and include materials. These courses are great opportunities to be creative, learn a new technique, or just get out and have fun. For exact times and pricing for each class, visit The Arts Council website.
Ever been interested in making your own pottery? In the July 10 class, "Built by Hand: Coil Building Cups with Jacob Jimerson," students will learn pottery basics while making their own cup to take home later. Some of these basics include the anatomy of pots and the method of pulling a handle. The cups attendees make are picked up several weeks after class due to the process of firing and glaze.
A possible favorite for nature lovers and science nerds alike, "Natural Science Illustration with Arienne Boley," combines the beauty of nature with the precision of scientific observation. Held July 17, participants will create a poster from their study of unique natural objects using observation and illustration techniques taught in the class. Previous illustrations from this class include flowers and seashells, though the possibilities are endless.
Want to experiment with all the possibilities of paper? Then join the Arts Council on July 24 for "Paper Quilling with Apinya Srikhwanthong." For those of us that don't know, paper quilling involves taking strips of colored paper and rolling, shaping, and gluing them together. In this class, students will learn the basic shapes of quilling and experiment with strips of paper and decorative designs.
While Bob Ross is renowned for his landscapes, the one thing he couldn't do was portraits. Well, in "Color me a Rainbow; Pastel Portraits with Jami Bevans," you can learn to do just that! This class, taught on July 31, will show you how to use the colors of the rainbow under pastels to create more realistic skin tones. Participants of this class will get to practice first on gray bogus paper and then transfer that knowledge to creating their own portrait. Be sure to bring a printed photo of themselves, friends or family members.
For avid book readers, sketchbook users and journal keepers, there's a class here that could be just right for you! In "Bookbinding with Lisa Urban," students will get to design their own covers and learn two bookbinding techniques. After taking this class on Aug. 7, attendees will walk away with a small journal and a large sketchbook.
Summer Camps for Kids And of course, we can't forget the children! For those kids that want to learn more about art, as well as those who just want something to do with themselves this summer – the Arts council has options for all. Each week there will be a morning camp and a separate afternoon one, with the last camp day on July 16. Each camp is $125, which includes supplies and instruction.
"Hands on Art" with Jessica Horvath June 28-July 1, 8:30 a.m. – 12 p.m., Ages 7-11
If your little artists aren't so keen on drawing or painting but really want to use their hands, this one will be just the ticket. Join this camp for art that's built—sculpture, collage, quilling, weaving and printmaking.
"Paint Along & Paper Making" with Brandi Walden June 28-July 1, 12:30-4 p.m., Ages 6-11
A fun spin on a classic workshop style, this camp allows students to learn techniques through a guided paint-along, while also learning a cool way to make paper. Not only will these young participants learn some new painting skills, but also how fun recycling can be!
"Karaoke Party" with Jessica Steels July 5-9, 8:30 a.m. – 12 p.m., Ages 7-10
For our young musicians and performers, look no further than "Karaoke Party!" Here students will be able to sing their hearts out to popular songs while learning fun dance moves at the Art Council's only musical camp in July. Plus, each class ends with a group performance!
"All About Drawing" with Brandi Walden July 5-9, 12:30-4 p.m., Ages 6-11
Are your young ones interested in drawing but don't know where to start? Then this camp might be the way to go! Here, students will learn to try a little bit of everything – people, animals and the world around them!
"Art Around the World" with Rose Santos July 12-16, 8:30 a.m. – 12 p.m., Ages 6-11
Speaking of the world around us, each day at this camp will focus on a different artist tradition or culture each day. Students will be able to bring home creations like landscape paintings, sugar skulls, collages and more!
"Printmaking & Monster Pottery" with Brandi Walden July 12-16, 12:30-4 p.m., Ages 6-11
For those little monsters wanting to sample a couple of different art mediums at one, this could be the way to go! With a mixture of printmaking and clay sculpting, students will have the chance to learn a variety of new skills. Plus, they'll get to take home either a playable whistle or a sound monster (a clay phone holder that can amplify a phone's speaker) they made!
With so many options, our inner artists are spoiled for choices! Be sure to sign up immediately as these camps fill up fast! Click here to register for adult classes and here for kids classes.
https://www.acbv.org/p/programs/offered-programs/SummerArtCamps