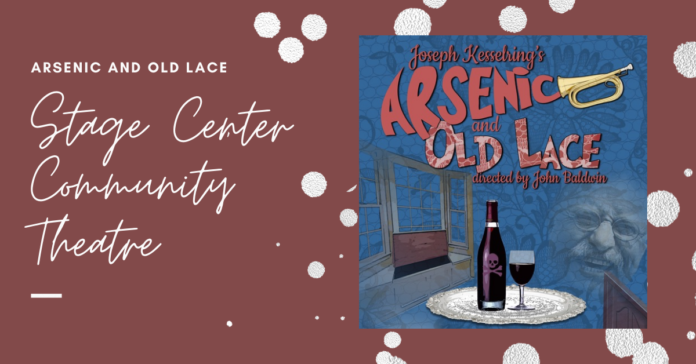 What better way to celebrate the ending of winter and the coming of spring than with some good, macabre fun? If laughing your sides out sounds like something up your alley, StageCenter, Bryan's premier community theatre, is putting on a raucous production of the classic American play, "Arsenic and Old Lace" from February 18 – March 6.
While many know "Arsenic and Old Lace" from the classic 1944 Cary Grant movie, it was actually a famous play written a few years earlier in 1941 by Joseph Kesselring. Directed at StageCenter by John W. Baldwin, "Arsenic and Old Lace" tells the story of the dysfunctional Brewsters, a family who is "descended from the Mayflower settlers but now composed of maniacs, most of them homicidal." StageCenter's production promises to be a faithfully hilarious adaptation.
StageCenter has been a mainstay in the Bryan/College Station area since the 1960s, so you know you're in for a treat. "Arsenic and Old Lace" is playing for three straight weekends from February 18 to March 6, and tickets are $10.00 a seat on Thursdays and $12.00 – $15.00 on Fridays and Saturdays. For more info or to purchase tickets, feel free to check out StageCenter's website.
Sources
https://ctxlivetheatre.com/productions/20210211-arsenic-and-old-lace-by-stagecenter-commu/