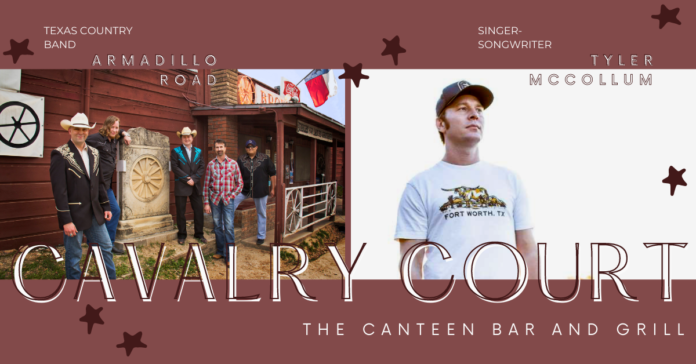 Is there any better way to start your weekend off than with some great live music and food? Didn't think so. Well you're in luck, because Armadillo Road is going to be performing at The Canteen inside Cavalry Court Hotel on Friday, Sept. 24, starting at 7:30 p.m., and there's no need to be sad when it comes to an end because you can come right back on Saturday, Sept. 25 to see Tyler McCollum perform at 7:30 p.m.
Armadillo Road is an Austin-based Texas country band that was formed all the way back in 2009 by current members Tee-Jay Hill, Jeremy Edens and Josh Jarratt. Their music ecompasses everything that is Texas country, a focus on storytelling, loud guitars, and a nod to country music's past. They offer a little something for everyone, and their strong honky-tonk sound is one that's undeniably catchy. The three members released their self-titled album in 2010, but in 2013, they acquired drummer Jessie Esquivel and pedal steel guitarist Michael Small who both add even more of that beloved Texas twang to their music. You can find all of their music, including their 2018 release, "Honky Tonk Way," on streaming platforms and future live show dates on their website.
Tyler McCollum, performing on Sept 25, is an singer-songwriter originally from Conroe but is now based out of Austin. McCollum, and the Tyler McCollum band, blends the genres of Americana, country, blues and folk to offer an engaging sound that is different enough to surprise you, but familiar enough to quickly fall in love with. You can find his debut album, "Backbone," released in 2019, on all major streaming platforms and visit his website for touring information.
The Cavalry Court Hotel is located at Century Square in College Station. The music starts at 7:30, but come earlier to enjoy great food and drinks from The Canteen Bar and Grill. Purchase food until 10 p.m. and the bar's open until 2 a.m. Cavalry Court also offers plenty of outdoor space, so you can stretch your legs and socialize with all of the local music lovers.