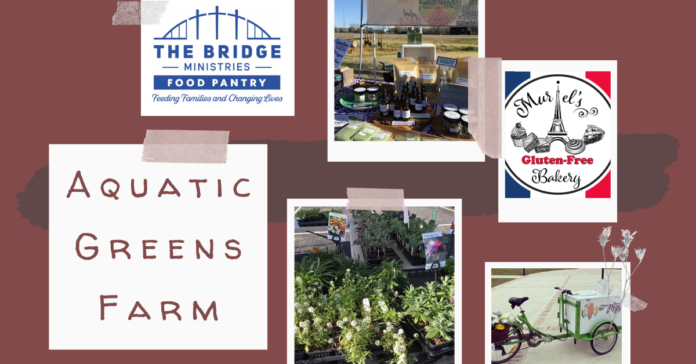 Twenty-five-year-old Jacob says he loves actually having something to do. That's why he became a volunteer farmer at Aquatic Greens Farm a year ago. That, and because he can proudly show off his A&M merch while he works.
Jacob is one of 13 special needs volunteers working at Bryan's aquaponic farm, meaning a large fish tank system hydrates and fertilizes about 25 varieties of vegetables. This includes 10 varieties of lettuce that provide fresh, mouthwatering salads and healthy meals to the community nearly every day.
It all began eight years ago when the farm's owner, Sharon Wells, started growing produce in her backyard in a successful effort to improve her health. Her father encouraged her to expand to commercial farming, and Aquatic Greens Farm was born. When her staff of Aggie students left two years ago, she leveraged her background as a special needs teacher and began training adults with disabilities to run the farm. The Aquatic Greens Farm team includes individuals ranging from 13 to 51 years old with autism, brain injuries or Down syndrome. The volunteers' willingness to work year-round, 1.5 hours at a time from 8 a.m. to noon, keeps the farm alive.
The bulk of their produce gets donated to Bridge Ministries Food Pantry or sold to local restaurants, but starting just two weeks ago, the farm will be open every Friday from 10 a.m. to 2 p.m for Farm Fridays, where the various products the farm features are available for sale to the public, including produce, skincare products, and handmade goods.
Be sure to look out for the Moo-Bars from Muriel's Gluten Free Bakery, a delicious concoction consisting of a shortbread base with a dulce de leche center (or dairy-free equivalent) and a sumptuous flavored layer on top like strawberry, pumpkin or chocolate. Muriel's utilizes the commercial kitchen in the main building of the farm and teaches the staff how to measure and form dough. This kind of training is crucial for the volunteers. "Even though the school system is great," Wells says, "they learn certain skills, but then nobody's willing to hire them. They start losing a lot of the stuff that they had."
The aquaponic system, Muriel's bakery, and sales on Fridays and Tuesdays allow the team to learn how to wash dishes, kitchens and bathrooms, add and subtract money and use scales to weigh–all skills they alternate on throughout the week. "My vision for the future," Wells says, "is to train them and send them out in pairs with the skills they've learned so that hopefully employers in the area would be willing to hire them."
It's clear the experience benefits the volunteers greatly and that they enjoy feeling productive. "Not one of them fusses or complains," says Wells. "They all want to come back. It's amazing to me. There's a little bit of weight loss, and they just feel better I think, which is what I felt, too."
Volunteer Roni Bender has been going to the farm since 2018 and couldn't be clearer about how she feels about her work. "I love working with Ms. Muriel and Ms. Sharon at Muriel's GF Bakery!" Roni says. "In the bakery, I weigh ingredients, mix, frost, package, and anticipate what Ms. Muriel needs as we create delicious pastries and cookies."
Eventually, Wells says the volunteers might run the place, and she hopes the farm will soon earn enough to pay them. She also anticipates starting an official nonprofit within the next couple of months to gain financial grants.
On Farm Fridays, a few local businesses join in as vendors. Ron's Nursery has an above-ground greenhouse on the property, and he sells produce, landscaping, and starter plants, while his wife Cherie sells handmade goods. Three Sweet Pops sells icy popsicles made with fresh ingredients. Muriel's offers light, fresh, gluten free (and some vegan) French and American pastries to snack on while you shop or to bring home to share. And if your Fridays are already packed, you can find Aquatic Greens Farm on Tuesdays at the Grand Station Farmer's Market at 2400 Earl Rudder FWY S from 9-1.
Farm Fridays will continue at least through this year, says Wells, and may feature more local businesses in the near future. If you make it to Farm Fridays, you'll see the fruits of the team's labor yourself, and you'll learn why Jacob calls it an "awesome" place.
Those seeking to join or assist the team can contact Wells by email at aquaticgreensfarm@gmail.com.