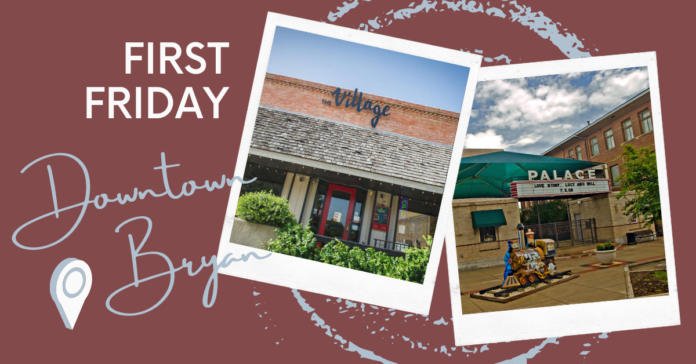 Come on down to Historic Downtown Bryan on April 2 to welcome the spring season with First Friday fun festivities for the whole family! The day long event is full of good food, good music, and even more, making First Friday the perfect opportunity to get outside, enjoy time with family and friends, and support local Bryan businesses while you're at it.
This First Friday, The Village and Art979 Gallery will bring you "LIVE!art at The Village Cafe" where you can come by and see live art demonstrations and speak with the artists. Stay for a bite to eat, or head to any of the other Downtown Bryan restaurants. To find out which businesses extend their hours for First Friday, please visit their individual pages.
Continue your day at First Friday by strolling along the farmer's market area set up along Main St. between 26th St. and 28th St. from 5-9 p.m. There will also be a Palace Theater performance, street musicians, and community and non-profit organizations along the streets. For a list of the businesses that are open, the Palace performers and street musicians, keep up with the details as they are announced on Downtown Bryan's website.
Quite a few shops downtown will stay open late for First Friday, so you can get your fix of antiquing, book hunting, and boutique shopping during the event. The Bryan community is all about lifting each other up and supporting our neighbors' businesses, and First Friday is a perfect event to support them. There are so many artists, musicians, business owners, and more in BCS and they deserve to be celebrated!
First Friday is free, and you can check back on their website the week of the event for the full list of activities. Masks will be required inside the street enclosure area. Downtown Bryan asks that you do practice social distancing and take advantage of the sanitation stations in front of the Queen Theatre while attending First Friday.
For more information about April's First Friday event, visit Downtown Bryan.