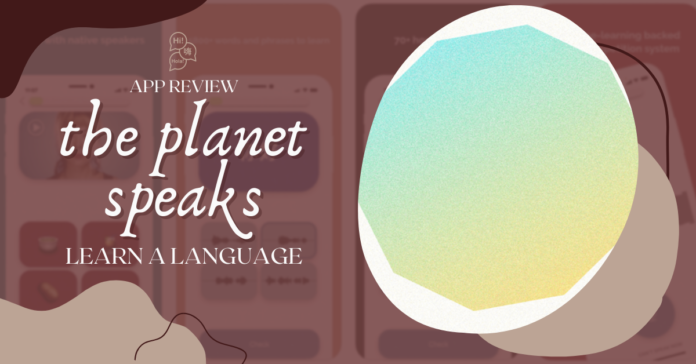 Learning a new language is a journey with many bumps along the way, but recently released app The Planet Speaks seeks to smooth out the process. The Planet Speaks, developed by Alexey Demidov, incorporates science-backed methods to make their language lessons as effective as possible.
The Planet Speaks wastes no time getting you started, asking you first to select the language you speak and the language you intend to learn. The app feels welcoming to a wide audience, given that it translates from a variety of languages instead of only English, and starting off with essential vocabulary, presenting it visually and audibly. For example, "¡Hola!" is shown with a waving hand, followed by a clip of someone speaking the word. Research shows that combining visual and auditory representations helps with memorization, so implementing it here is a big plus. In addition, the user is asked to spell the word and put it together by syllables. The app continues to teach new words, then randomly returns to ones you've already learned, preventing the words from escaping your memory. Overall, The Planet Speaks' approach to learning a language is noticeably effective in helping to retain information.
Still in its early stages, The Planet Speaks doesn't have an abundance of content. With currently only 9 languages available to learn, the developer states that more will be added soon. A subscription is required after a brief trial, which might be disappointing for those looking for a free learning experience.
The innovation of The Planet Speaks reassures the user in the face of a rigorous learning journey, as the team behind the app has clearly taken the time to assemble a strong program. It's unique approach definitely deserves a try for those looking to take their first or next step toward learning another language.