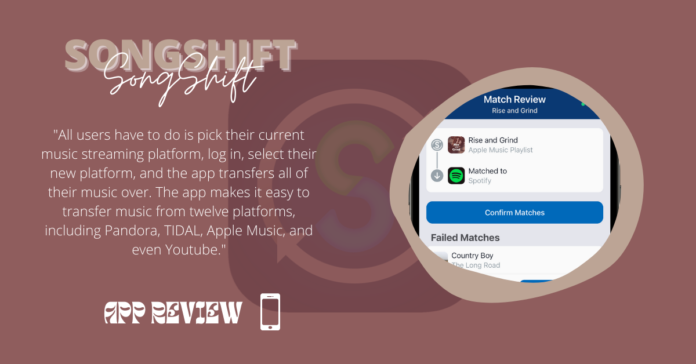 Choosing a music streaming platform can be challenging, and there are a lot of factors that go into it. For example, say you're a die-hard Neil Young fan, but he just announced that he's leaving Spotify, and you want to switch to another platform that offers his music, but you have years of music saved on the app.
Well, fear not because the app SongShift is here to help users switch music streaming platforms without having to start all over.
All users have to do is pick their current music streaming platform, log in, select their new platform, and the app transfers all of their music over. The app makes it easy to transfer music from twelve platforms, including Pandora, TIDAL, Apple Music, and even Youtube.
But this app isn't just for switching music platforms. For example, SongShift makes sharing music easy. Say you use Spotify, and your best friend uses Apple Music. Instead of sending them the Spotify link, SongShift will send them the Apple Music link, making it easier to find the song. So even if you're not planning on switching music streaming platforms, SongShift still has a lot of benefits to users.
For a fee, you can also make use of SongShift Pro, which allows you to connect an unlimited number of services, use customizable themes, and save an unlimited number of configuration favorites. The fee scale is rated, giving you a choice of paying $4.99 a month, $19.99 a year, or a one-time fee of $39.99.
One drawback is that the app is currently only available on Apple devices. So if you're an Apple user, you just need to have Neil Young on your playlist.