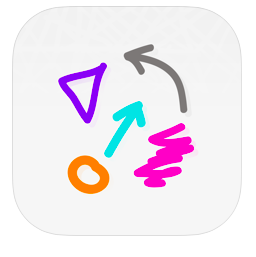 Whether you're trying to keep in contact with your classmates, coworkers or want to draw something fun with a friend, Scribble Together Whiteboard allows anyone to share a whiteboard and draw together. 
Featured on the "Learn From Home" category on the Apple App Store, Scribble gives users the ability to use the whiteboard by themselves for free as a personal notebook. With a subscription of $4.99 per month or $49.99 annually, users can get unlimited invitations to collaborate with other users. With the subscription, users can share the whiteboard over Facetime or any calling platform. Scribble gives all users the option to draw on any PDF or picture and save the image as a single PDF. 
Anyone using the app on an iPhone might find that there's not enough space to work with, so users might want to consider using an iPad to get more drawing space.
The app can be used with anyone, even if they don't have a smartphone, by using the online web app. Scribble Together Whiteboard is a great way to share ideas and collaborate with others near and far!