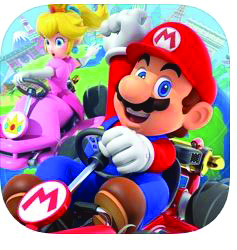 Platform: iOS, Android

Ever since Nintendo announced they were going to start releasing games on mobile platforms, it was inevitable that Mario Kart, the almost thirty-year-old racing series, would make its way onto our phones. While the gameplay of the free to download "Mario Kart Tour" is fun and a worthy entry to a series with many legendary titles, it also retains some of the worst trends of mobile games.

If you've played any entry in the Mario Kart series, you know what to expect; take control of a colorful character from Nintendo's long history and race against others, using items to disrupt your competitors. To start, there are only a few characters and karts available, and unfortunately, Nintendo has decided to take a 'loot box' approach to unlocking more options.

You have to spend in-game currency, which you earn slowly through playing, to randomly receive new characters and karts. Real money spent on in-game currency speeds this up, but you cannot pick what you receive.

If you're okay with the slow pace or you have the disposable income to drain into a mobile game, Mario Kart Tour is still a fun way to experience the joy of Nintendo games on the go.