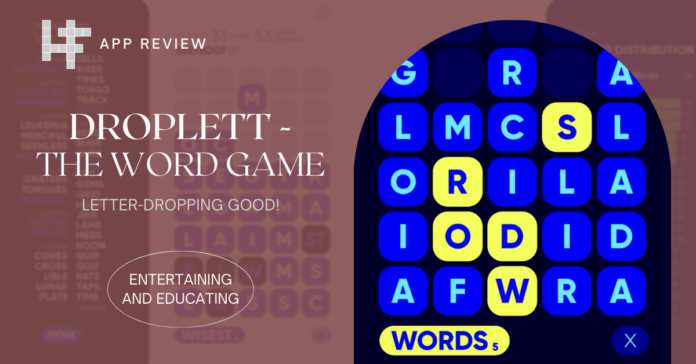 Looking for a fun way to add words to your vocabulary? Then you should check out Droplett – The Word Game, a game designed to help you learn new words and exercise your brain.
Droplett is simple but also very addicting. There are letters scattered around the screen, and you must assemble them into words before the screen fills up with letters. The more letters in the words, the better. The simplicity makes for a pleasant experience.
The free version of this app is extremely restrictive, with there being only one game mode available with a limited amount of plays per day. It feels like you're just getting started when the app tells you to come back tomorrow to play again. The paid version is only $1.99 for permanent access though, so upgrading for unlimited plays and more game modes isn't a problem. Droplett is only available on Apple products however.
Looking for long, complex words in the sea of letters never gets old and feels incredibly rewarding. Although the free versions restrictions are irritating, Droplett is simultaneously entertaining and educating.