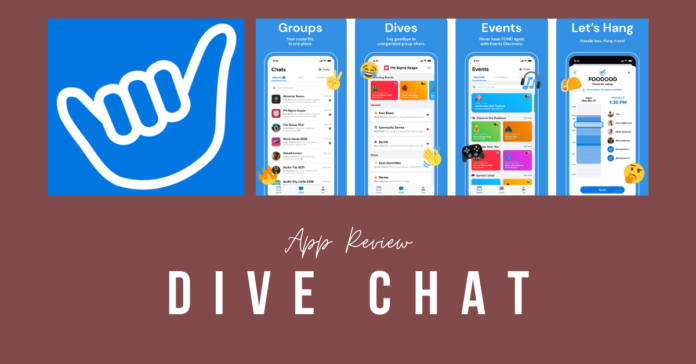 Has a group you've been in solely communicated via limited group messaging apps? Have you ever had trouble keeping up with all of your scheduled events? What if those processes were all done in a single place? The result is, well, a mixed bag to say the least.
Dive Chat is a group messaging app that combines the instant private messaging component of other social apps with the ability to maintain a schedule of events for the various groups registered on one's profile. After undergoing the run-of-the-mill privacy procedures to sign up, such as putting down a phone number, email, allowing access to your photos, etc., users are greeted by a clean and streamlined user interface with tabs for messaging and scheduling that thankfully don't require an advanced degree in computer science to navigate. As with all social apps, one of the key features is profile customization, something that some of us prefer to spend more time on than others. The profile page allows users to upload the standard information such as a picture, their name, what school they attend, and a bio section, as well as an interesting prompt section that may give users' profiles more character, but admittedly feels like answering icebreaker questions on the first day of school. Although the motto of Dive Chat involves the phrase, "For students, by students," the app can also be useful for non-academic groups, but they unnecessarily alienate audiences not affiliated with universities.
Dive Chat clearly has a capable team of designers that have made their app quite user friendly and bug free, however a pretty UI is not enough for users to avoid the swift realization that they're pretty much confined to their own bubble. A key feature that "Dive Chat" is missing is an explore or discovery feature, where users can view events in their areas of interest and sign up for those events and groups. The social function of "Dive Chat" entirely relies on the user having established groups and social circles that already use the app rather than being able to branch out into new communities. This social design can't help but make users feel as if they've lost a degree of autonomy in using the app.
This version of "Dive Chat" is ultimately a mixed bag for users; it allows for streamlined communication between and within groups as well as scheduling for events, which is useful for both academic and non-academic parties, however it seems to cater more towards preexisting social circles rather than individuals who are looking for a means to find like-minded people and explore events that align with their passions.