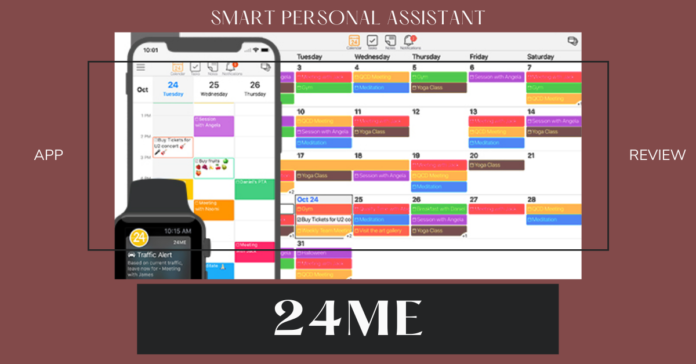 Platforms: Google Play and iOS
Cost: Free, upgrade for $5.99 a month or $35.99 per year
Sometimes it can be overwhelming to keep track of all the different events and meetings scheduled for your week. A fundraiser reminder might pop up on your Google calendar, and a reminder for your Zoom meeting might come up on your iCalendar 10 minutes before the start time. With different events on different platforms, it can be easy to forget what you have going on. But 24me helps with this problem, and is able to streamline all your reminders onto one app. Here's how it works.
When you open the app, you'll have the option to add all your different calendars, the notes app, the reminders app, as well as the maps app, to 24me, where they will atomically appear on the in-app calendar. Inside the app, these events are color coded so you can easily identify and access the event or Zoom link you are looking for. Before an event begins, 24me will remind you, and you can personalize the start time of the reminder to your preferences.
Another helpful feature of the app is the task and notes section, which is organized by the date, where you can easily create a new task, such as a grocery list, or write out a note for what you want to buy when you get there. In addition to using your phone to do all this, 24me is also voice and Apple Watch compatible, so you can speak into the app when you are biking, cooking, or simply tied up with something else.
One downfall of the app is that since 24me has so many different features, it can be confusing when you're first trying to navigate it. But if you spend a few minutes learning all the different ways it can help you organize your life and the events in it, you'll be glad you downloaded this handy helper!