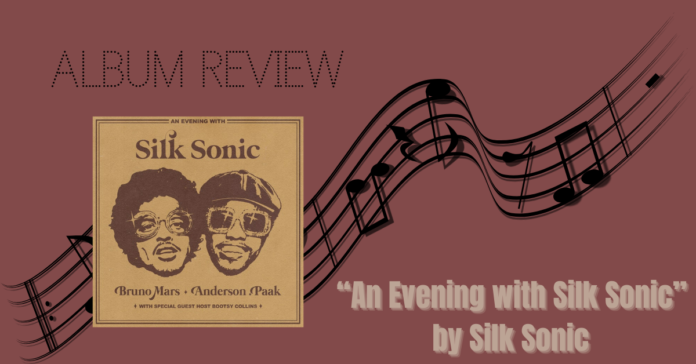 Music is known for taking inspiration from past decades, and Silk Sonic's newest album does just that. On "An Evening with Silk Sonic," Bruno Mars and Anderson .Paak's groovy beats transport you to the 60s and 70s, bringing old-school soul to modern R&B.
The two artists mesh wonderfully together, and apparently other listeners agree because their first single, "Leave The Door Open," hit over 230 million streams on Spotify within a month. Both artists have a background with R&B songs that take on retro beats, and Mars and .Paak are also adept at hitting high notes, which are showcased throughout the album.
"An Evening with Silk Sonic" consists of upbeat, fun songs that entice the audience to dance and sing along, and opens with rhythmic clapping and a large presence of drums. This has the effect of introducing Silk Sonic as if they're about to perform on stage. Track 4, "After Last Night," features Rock and Roll Hall of Famer Bootsy Collins, a funk R&B bassist and singer, and Grammy winner bassist Thundercat, both providing authentic 70s sound.
The lyrics to each song have a common theme – love interests entangled with sexual desire. The final song "Blast Off," however, serves as a perfectly placed, slow and jazzy conclusion to the album.
Fans of old-school R&B should definitely give this album a listen, but it might not be a hit with every listener because it was created with a specific sound and audience in mind.