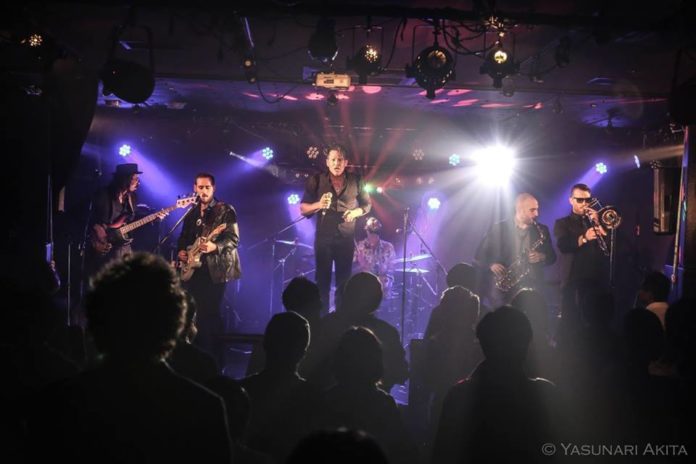 This Friday night, come to the Grand Stafford Theater for a funky good time! Funk band ROXY ROCA will be performing at the Grand Stafford Theater on Friday, Nov. 15, at 8 p.m. Tickets for this all-ages event can be purchased for $12 in advance and $15 at the door.

ROXY ROCA has a unique style, which blends multiple genres and inspires audiences with lyrics spreading positivity and hope. The band's international and domestic tours have brought a combination of soul, funk, rock and love to audiences all over the globe. While their biggest musical inspirations are 70's funk legends, they have successfully spun this into their own distinctive style. It is unmistakably nostalgic with a modern take, allowing it to appeal to diverse audiences.

The band is comprised of lead vocalist Taye Cannon, guitarists Charalampos 'Babis' Tyropoulos and Austin Roach, bassist Erik Muench, drummer Ryan Greenblatt, saxophonist Royce Phillips Jr., and trombonist P. Michael Hayes. This crew is based out of Austin, and will only be performing in Bryan College Station for the one night. ROXY ROCA's most recent album, "A Better Way," was released in Sept. 2018, and embodies the brand they have worked so hard to create. Their main goal as a band is to inspire people, and their mantra as a band is that "happiness is a choice."

ROXY ROCA thrives during their live shows, dancing and grooving with a combination of upbeat tunes and real-world lyrics. A big topic of conversation in these songs is love and all of the ways it affects our daily lives. That said, the band still wants you to dance! So come wearing your dancing shoes because ROXY ROCA might just make you move your feet!

ROXY ROCA will be playing at the Grand Stafford Theater, located in Historic Downtown Bryan. Their show will consist of two sets broken up by a short intermission, and all ages are welcome. Doors will open at 8 p.m.
For more information, visit: http://bit.ly/2NkTrIr.