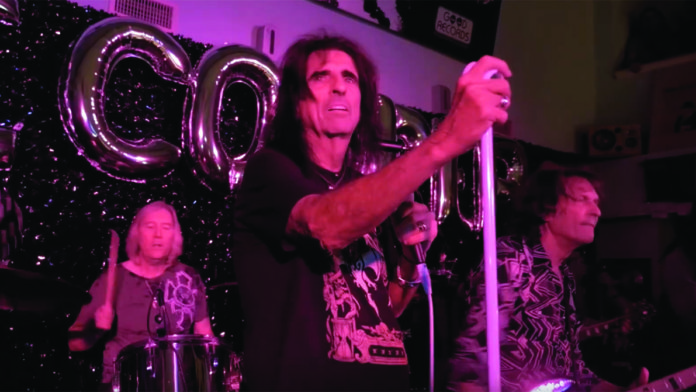 There is quite often a sizable gap between the persona artists put out into the world and who they are in real life. This gap is even wider with a musician like Alice Cooper, the now 71 year old singer, songwriter, and actor who is known as the first 'shock rocker' and whose shows are famous for including props like fake blood and guillotines. This distance is something filmmaker Chris Penn has lessened with his passion project, "Alice Cooper: Live from the Astroturf," which documents when the legendary rocker got back together with his original bandmates from the 1970s to play an impromptu show at the record store Penn owned. The Queen Theatre in Downtown Bryan will be showing a double feature of this film along with "Good to See You Again, Alice Cooper" on October 5!

In some ways, the film's a lifetime project for Penn, who has loved rock music his entire life. When he was in college in the early 1990s at Texas A&M, he worked at a record store that he eventually managed by himself after he graduated. After his time in College Station was done, he relocated to Dallas, where he founded Good Records, which he has owned and operated ever since.

After Good Records hosted a book signing for Dennis Dunaway, Cooper's original bassist, he began scheming to get all the surviving members of the band to play at his store. Penn explains that film has always been his "second or almost co-passion with music," so he decided to make a movie to chronicle "the story of [his] plans and schemes." After succeeding in bringing the group together, he decided to enlist the help of talented friends in order to film the night of the concert, which turned into the movie that will show at the Queen.

Penn says that he is "really excited" to be coming back to the Bryan/College Station area to show his movie at The Queen Theatre. He loves "what they have down with the theatre and [looks] forward to seeing the revitalization of Downtown Bryan." As one of the oldest structures in the Bryan area, The Queen Theatre has over a century's worth of history and is the perfect place to host Penn's film and his homecoming.

"Alice Cooper: Live from the Astroturf" is sure to be an intimate, fascinating look into the artist's life and how he relates to his fans. Penn made a point to proclaim that "you don't have to be an Alice Cooper fan or even know the music to enjoy the film. It is about a fan's appreciation of a band's music and the symbiotic relationship between the two." If you're interested in checking this show out, there will be two showings at The Queen Theatre on October 5, one at 3:00 p.m. and the other 7:00 p.m. 
Tickets for the double feature are $10. Purchase tickets online ahead of time if you follow this link to The Queen Theatre's website: http://bit.ly/2mqQdbB