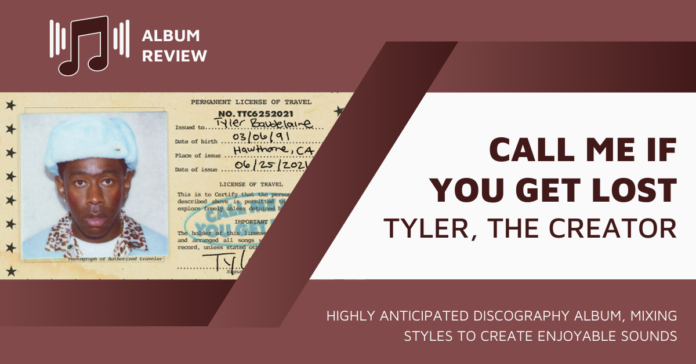 One of the biggest problems an artist can face is what to do after they have reached the highest pinnacles of success. Tyler, the Creator's 2019 album "Igor" debuted at number one on the Billboard 200 and won the Grammy for Best Rap Album. Reaching these heights raised the attention and expectations for his next project to levels that would be hard for many to accomplish. With "Call Me If You Get Lost" Tyler doesn't disappoint one bit.
While "Igor" played more like an R&B record with rapping features, "Call Me If You Get Lost" is a full fledged rap album mixing the sounds of an early 2000s era mixtape with Tyler's own unique style. The album features appearances from popular rappers like NBA Youngboy, Lil Wayne, and Ty Dolla $ign, but the most prominent guest is the acclaimed disc jockey DJ Drama who gained popularity from his "Gangsta Grillz" mixtape album series. Songs like "Corso," "Lemonhead," and "Lumberjack" definitely feel similar to the tracks found on previous albums like "Goblin" and "Wolf" that propelled Tyler to mainstream stardom.
"Call Me If You Get Lost" is a deeply personal album. There is a great emphasis on travel and how his ability to see the world has helped shape his music and perspective on life. Tyler reflects heavily on the success he's had and the opportunities it has presented him. The second to last track on the record, "Willshire," works as the emotional crux of the album. The song sees Tyler telling the story of how he fell in love with one of his friend's girlfriends, and how ultimately, even though he thought she was perfect, they couldn't make it work. In contrast to the rest of the album where he references his tremendous wealth and prosperity, here he finds the thing he wants most in the world but can't have. Both thematically and structurally it's analogous to "Lone," the final track on his 2013 album, "Wolf, " where he raps about the death of his grandmother.
For an album that was so highly anticipated by fans, "Call Me If You Get Lost" delivers another fantastic addition to Tyler, the Creator's discography. The mixing of styles manages to create a sound enjoyable to fans of both his older work and his newer albums.