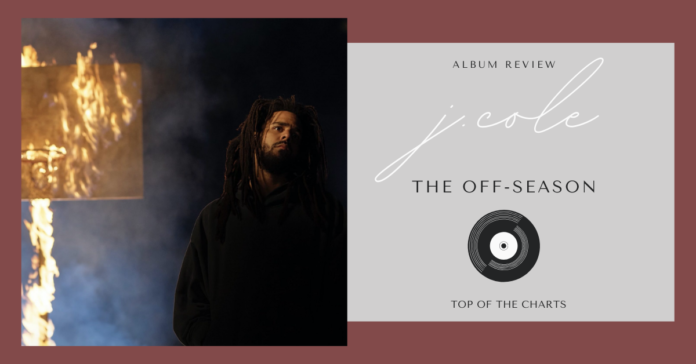 North Carolina rapper J. Cole returned to the top of the charts this May with the release of his highly anticipated sixth studio album "The Off-Season."
This record picks up where his 2018 album "KOD" left off. "1985," the final track of "KOD," sees Cole looking at the current state of the rap industry and offering advice to up and coming musicians who have taken shots at him in the past. "95.south," the opening track of "The Off-Season," sees Cole once again reviewing the rap industry, but now uses this as an opportunity to compare how successful he is in comparison to his peers. The confidence that Cole displays on the opening track sets the tone for the rest of the album.
The album's name, "The Off-Season" is a reference to the work an athlete puts in between seasons. Hard work, determination, and eventual success are the key themes that the album pushes. Cole, who recently signed a contract to play professional basketball in Rwanda, draws many parallels to the way he treats rapping and the way professional athletes play their sports. Tracks like "punchin'.the.clock" and "100.mil" make it clear he believes he hasn't yet entered his prime as a rapper, and is constantly improving due to his work ethic. This point is driven further by the references to NBA players Russell Westbrook, Ja Morant, and Stephen Curry as well as a sample from NBA star and fellow rapper Damian Lillard.
The one major drawback to the record is that Cole doesn't do anything that he hasn't already done before. The album sounds very much like every other J. Cole album, and while superfans of the rapper may see this as a good thing, listeners who were hoping to hear something new or different may be disappointed. The lyricism on the album is some of his best work to date, but unfortunately the themes he explores are ones we have already heard from him on past albums.
"The Off-Season" isn't groundbreaking by any means, but it serves as another solid edition to the already celebrated J. Cole library.