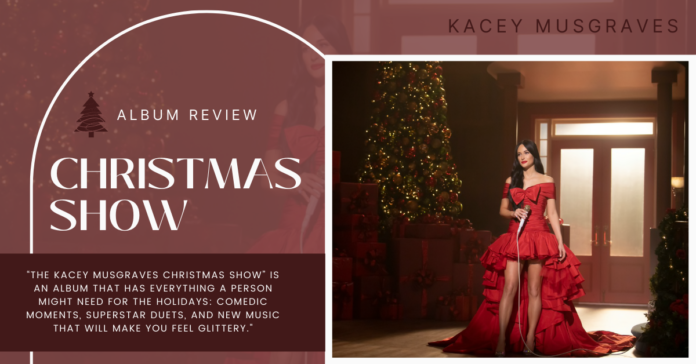 Watching Christmas specials with loved ones brings out all the warm and fuzzy feelings of the holidays, so Kacey Musgraves released an album, along with a Prime Video of her holiday special for those same feelings to be felt just about anywhere. "The Kacey Musgraves Christmas Show" brings some special guests together for some fun holiday duets, campy interludes, and even new music.
The album plays with the campiness of the holiday season as things seem to happen during the performances with the musical guests. In the tracks "Let It Snow" and "(Not So) Silent Night," Musgraves begins singing the tunes with her musical guests, James Corden on the first track and Fred Armisen on the latter, and they end up getting interrupted by something completely out of their control. Corden and Musgraves get interrupted by snow blowing in through the windows and Armisen and Musgraves get interrupted by someone needing to do repairs to the room where the two are performing their duet. Their attempts to sing the songs are charming despite the chaos going on.
Musgraves uses this album to perform some holiday duets with artists she doesn't normally collaborate with and is thus able to perform some upbeat and fun songs like "Rockin' Around the Christmas Tree" with Camila Cabello and "Mele Kalikimaka" with Zooey Deschanel. These duets will have listeners singing along the entire time!
One of the standout duets from the album is "I'll Be Home For Christmas" with Lana Del Rey. The duo's voices complement each other phenomenally and their harmonies create such a soothing sound. It definitely takes a different direction from the other upbeat duets on the album, but this slower and more mellow interpretation of the song best suits the voices of these two.
Musgraves also debuts a new song featuring Troye Sivan entitled "Glittery." It's a Christmas love song that makes a connection between the joys of the Christmas season and how it feels to be with someone you love.
"The Kacey Musgraves Christmas Show" is an album that has everything a person might need for the holidays: comedic moments, superstar duets, and new music that will make you feel Glittery. It's well worth listening to, especially during this magical season.