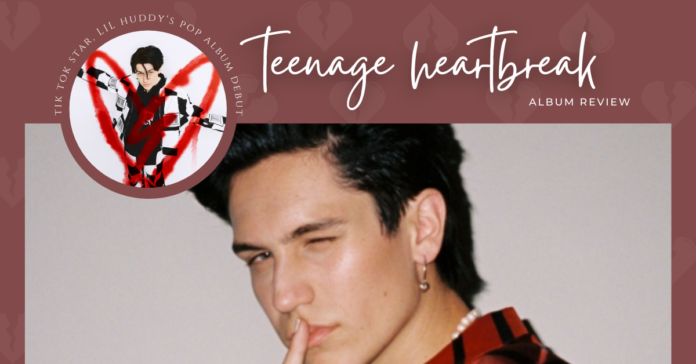 Rising to fame as a TikTok star, Chase Hudson, better known to his fans as Lil Huddy, has moved on to creating music instead of viral videos as he releases his debut album "Teenage Heartbreak." Hudson began teasing his over 32 million followers on TikTok with the release of music, leading to skepticism regarding the quality of the album, since many top influencers release music as a cash grab. Instead, "Teenage Heartbreak" is true to Hudson's talent and is an album his fans will definitely enjoy.
Hudson aimed to make a big splash with the album's lead single, "21st Century Vampire." The track has been streamed over 16 million times on Spotify and the music video has been viewed over 10 million times. "21st Century Vampire" focuses on the theme of authenticity and self-acceptance. Hudson relates himself to this modern vampire due to his unique look and style that is different from mainstream media.
Although labeled as a pop album, "Teenage Heartbreak" does not include many aspects associated with the genre. Catchy and repetitive lyrics are present throughout, as does pop music, but the album has more of an emo-rock sound. The opener is the title track, a great song that really engages the audience and draws them in, yet the same aspect that hooks listeners soon makes them feel like they've just listened to one long, continuous track.
The ballads featured on this album allow casual listeners to better differentiate songs and focus on Hudson's deeper lyricism. Songs like "America's Sweetheart" and "No More" focus on his feelings during his relationship and breakup with TikTok star Charli D'Amelio.
"Teenage Heartbreak" is a solid debut for Hudson, and this release is one that many people can find something to relate to while bringing a feeling of nostalgia for the 2000s punk rock era.