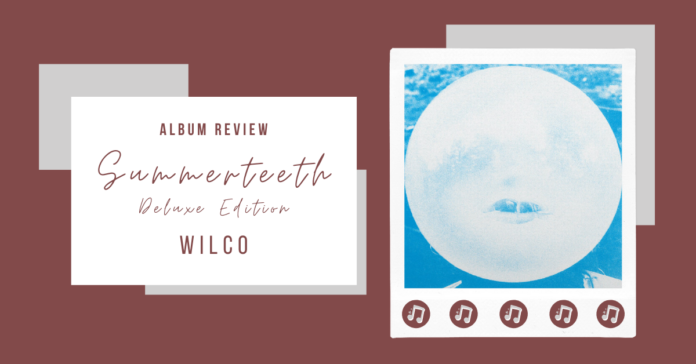 It might seem strange to be reviewing an over twenty year old album, but Jeff Tweedy and his legendary band Wilco have recently released a deluxe edition of their game changing 1999 record, "Summerteeth." Packaged with three extra CD's worth of songs, replete with 24 tracks of demo material and 26 more of live recordings from the late '90s, Wilco's deluxe edition of "Summerteeth" is sure to please not just music history nerds but also any fans of great pop music played by one of the most relentlessly creative bands still performing today.
While 2002's "Yankee Hotel Foxtrot" is often seen as Wilco's magnum opus, "Summerteeth" was arguably more of a big creative leap for the band. Before 1999, Wilco was a product of the genre known as alternative country, a more homegrown brand of country music for those who found popular artists of the time like Garth Brooks and Tim McGraw a little too mainstream for their tastes.
On "Summerteeth," Wilco completely abandoned their country roots, instead choosing to create a noisy pop album that uses more keyboard sounds and mellotron drones than pedal steels and fiddles. One can hear a late era Beach Boys and Beatles influence on the brand of pop Wilco employs on "Summerteeth," hiding gorgeous melodies and achingly poetic lyrics behind a wall of clashing sounds. It takes a certain talent to make a bitter lyric like "How to fight loneliness / Smile all the time," singable and melodic, but Jeff Tweedy and company do it magnificently.
On the packaging front, this deluxe edition is sure to delight both fans of Wilco and fans of music history. There are tons of extra, never before released demos and live records from Wilco's concerts in the '90s. In short, "Summerteeth (Deluxe Edition)" is a must-listen.