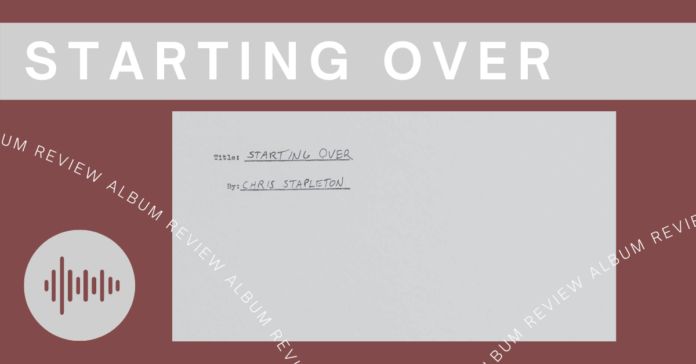 While sometimes it can be hard to tell country artists apart, one voice that stands out from all the rest is Chris Stapleton. In 2015, his debut album "Traveller" shot to the top of the Billboard charts, and now Stapleton is back with his lyrical storytelling and one-of-a-kind sound that draws you in for his fourth studio album, "Starting Over." Each one of Stapleton's 14 carefully crafted songs paints pictures of the singer-songwriter's life experiences and brings listeners along for the ride.
Stapleton starts the album out strong with his raw, raspy voice that his fans have come to know and love. Throughout the two-minute song, he reminds us that while it might be hard, sometimes it's best to move and start over somewhere new.
The upbeat soundtrack "Arkansas" will make you want to drop everything you're doing and put the pedal to the metal as you race up to The Natural State with your windows down and best friends in tow.
Later on, the songs get a bit more somber with tracks like "Maggie's Song," which strikes a chord with anyone who has ever lost a dog with the heartbreaking pain you have to endure when they are gone. Also on the somber side, "Watch You Burn" painfully describes his emotions about the mass shooting at a country music festival in 2017.
Finally, the album ends with "Nashville," a breakup song to the city where so many aspiring country singers seek refuge when they are first trying to make it.
Chris Stapelton's new album is the perfect playlist for anyone who enjoys songs that tell a story. And while you might not relate to all of Stapelton's experiences, you're sure to find at least one song you can connect with while being drawn in by his great musical talent!