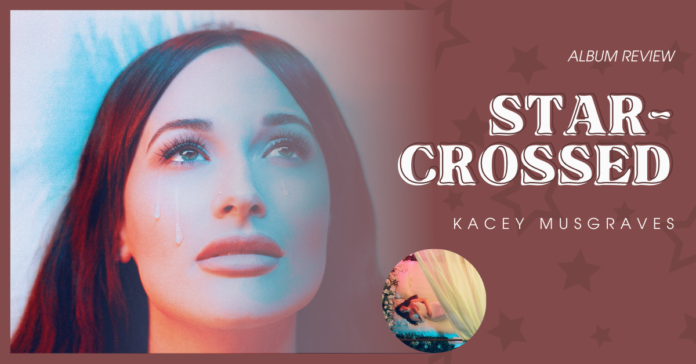 Kacey Musgraves takes a detour from the graceful vibes established in her "Golden Hour" album for a more introspective and somewhat gloomier tone in "star-crossed," her new album. While "Golden Hour" was an album to be listened to during, well, golden hour, "star-crossed" seems to be one to listen to on a cloudy day, or maybe even late at night. Still reeling from the pain of her recent divorce, Kacey Musgraves reveals a new side, which is much more emotionally vulnerable and musically experimental.
If you needed proof that her sound from "Golden Hour" is gone, in her song, "what doesn't kill me" she states, "golden hour faded black, say that it ain't coming back." Despite feeling for Musgraves with the emotional turmoil she displays, it's enjoyable as the listener to see her overcome and cope in a musical format. While this album is categorized as country, most aspects of country music are nonexistent here. The trippy instrumentals fit the bill of an alternative album, and the only thing that says country here is Musgrave's soothing country accent. This album feels dreamy, with her voice at times sounding muffled.
Musgraves saves the resentful feelings many people would include in their heartbreak-oriented albums for a less bitter and more thought provoking approach. She places no blame on her ex-husband, as seen when she says "no one's to blame." The absence of anger contributes to the introspective tone of the album and is very refreshing for the listener. For instance, in the song "star-crossed," she sings "What have we done? Did we fly too high, just to get burned by the sun?" Her asking these questions is an invitation for the listener to contemplate them, which keeps them engaged in the music. Her hesitancy to leave the relationship is seen in the song "cherry blossom," where she proclaims "I don't wanna blow away." This hesitancy to call it quits is another aspect of heartbreak that the listener is likely to have experienced before, which makes the connection to "star-crossed" that much stronger.
While the overwhelming majority of this album is a joy to listen to, some songs overdo it in terms of simplicity. The songs "what doesn't kill me" and "there is a light" are so repetitive with their lyrics that they can become tiresome.
Still, Kacey Musgraves establishes her depth as an artist with "star-crossed," and it's an album that many people will find some aspect to connect with emotionally.