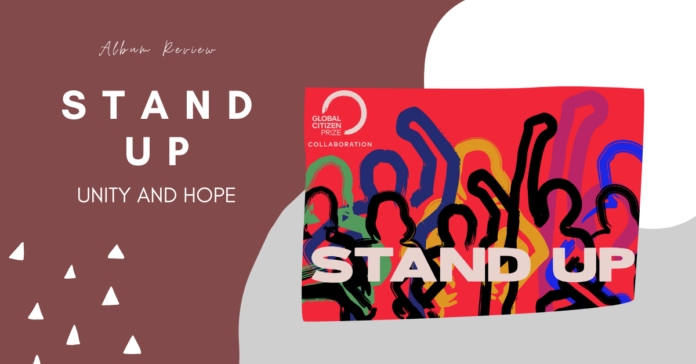 As we exit 2020 and start anew with 2021, the entire world could use a little extra dose of hope. That is exactly the goal of the newest collaboration album "Stand Up," which benefits Global Citizen, an international organization working to end extreme poverty by 2030. The album consists of eight cover tracks, all sung by major artists such as Tori Kelly, Jordan Sparks and Andra Day, each highlighting an inspirational message to take into the new year.
Songs include such powerful pop, rock and soul titles as "Come Together" by The Beatles, "Give The People What They Want" by The O'Jays and "Higher Ground" by Stevie Wonder. Artists are divided into pairs to turn each track into a duet, leading to some incredible performances like Tori Kelly and JoJo crooning "(You Make Me Feel Like) A Natural Woman" by Carole King and Gerry Goffin. Each artist on the album is bursting with talent, and these covers definitely do the original songs justice.
The overall message of the album is about unity and also hope: it is both intended to inspire people to make a difference in the world while simultaneously celebrating those activist leaders who already are. The actual music featured is very easy listening, designed to soothe the soul and make listeners feel good, and the fact that it stands for a good cause is just the icing on the cake.
"Stand Up" is streaming on all major music platforms now.
SOURCES: https://www.globalcitizen.org/en/media/stand-up/
https://www.globalcitizen.org/en/about/who-we-are/
https://www.billboard.com/articles/columns/pop/9502526/global-citizen-stand-up-album-stream/