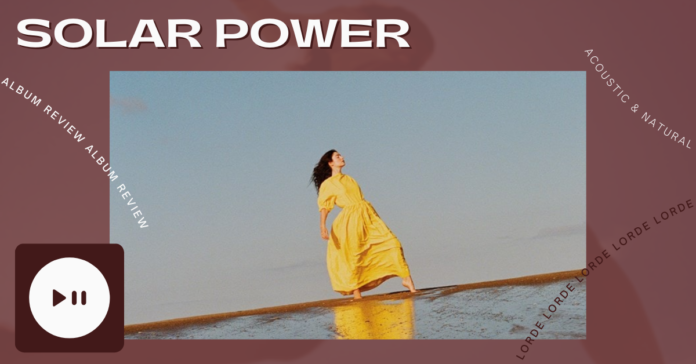 After four long years, 24 year old New Zealand pop artist Lorde has re-entered the music scene with her third album, "Solar Power," which hit all streaming services on August 20. The album has been highly anticipated by fans since the large successes of her first two albums "Pure Heroine" and "Melodrama."
Lorde has a track record of pouring herself into her music and creating personal material that reflects her current stage of life. While this makes for vulnerable and authentic music, it also can leave fans confused when her albums take on a different sound as her music grows with her. While 2013's "Pure Heroine" was woven with teenage angst and 2017's "Melodrama" confronts the raw emotions of heartbreak, "Solar Power" takes off on a softer note, which Lorde describes as "a celebration of the natural world." Departing from the theatricality found in her previous work, the album gives listeners a glimpse into the inner psyche of an older and arguably wiser version of the pop artist.
Largely inspired by her cherished summers in New Zealand as well as her time spent in Antarctica in 2019 learning firsthand about the climate crisis, the 12 track album was introduced through three singles— "Solar Power," an acoustic anthem about new beginnings and the comforting power of nature, "Stoned at the Nail Salon," a poetic and reflective track about time, and "Mood Ring," which offers a satirical stance on new-age wellness trends.
Mother nature is clearly a force that helped craft the sound of the album, but Lorde also touches on personal sentiments, including her mixed feelings for the pressure of being in the limelight, a love song for her rumored boyfriend, and a track written for her late dog. Though different from her past albums, which have layers of bright sounds and upbeat pop melodies, "Solar Power" showcases a much more stripped-down and mature side of the New Zealander. With the acoustic and natural feel of the album, it's one that demands to be listened to carefully as much of the beauty is found in the depth of the lyrics.