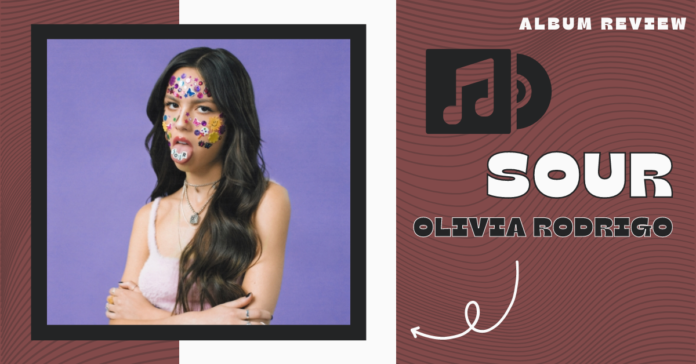 Some people remember highschool as a time of fun and freedom, hanging with friends without a care in the world. The rest of us remember a time of heartache, emotional struggles and/or overwhelming helplessness. And this latter experience is what Olivia Rodrigo's debut album "Sour" is all about.
Working off of the whirlwind success of her song "driver's licence," Rodrigo's new album comprises 11 songs that cover topics of jealousy, heart break, toxic situations and more. Greatly inspired by Taylor Swift, it's not hard to see Swift's influence on this album. In fact, the song "1 Step Forward, 3 Steps Back" repurposes a piano riff from Taylor Swift's song "New Year's Day." However, Swift isn't the only inspiration in this album. For example, the pop-punk sound of some songs takes inspiration from artists such as Fiona Apple, while her narrative style is based on some of Cardi B's work.
While most songs on the album – like "deja vu," "traitor" or "happier" – narrate Rodrigo's experience with a break up, this is not the only theme in "Sour." "favorite crime" and "1 step forward, 3 steps back" talk about abuse from a significant other and the confusion and pain it causes, while "hope ur okay" illustrates the helplessness we feel in grade school when we see our friends are hurting or being abused by family and all we can do is hope that they'll be okay. While these abuse related songs close out the album, the opening title, "brutal," depicts the difficulties young people often face while trying to find themselves.
Although the album discusses these various topics, the track list can still feel a little limited. With nine out of the eleven songs centered around relationship struggles, the listener can be left wanting more from the other themes "Sour" touches on. Despite this, many are still likely to be swept up by the passion and relatability of this 18-year-old Disney star's work.
"Sour" mixes pop-rock, punk-pop and a type of folk feeling recognizable from Taylor Swift's early songs. Some audience members may even find the switching between genres jarring, as one song's tone can vary greatly from the next. But this mixing of genres helps emphasize the raw emotions running through the album. Each song tells a different story, a specific moment or feeling in Rodrigo's life, and this is what listeners can connect with: a story they can relate to, or be sympathetic to if nothing else. The audience can listen to these songs and feel connected to something meaningful.
https://www.oliviarodrigo.com/
https://www.nylon.com/entertainment/olivia-rodrigo-sour-disney-lyrics
https://www.billboard.com/articles/news/9559751/olivia-rodrigo-cardi-b-honest-songwriting-apple-music-interview/