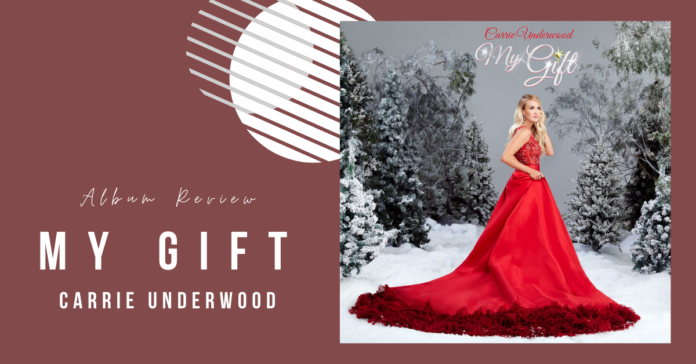 As we move forward toward Christmas, yes you read that correctly, it's time to start crafting your holiday playlist! Local stores and businesses have already started decorating and selling Christmas goodies, so don't find yourself in a jam when friends and family come over for winter festivities and you're handed the aux cord.
Luckily, some singers have already released their holiday albums as early Christmas presents to fans! Season 4 American Idol and seven-time Grammy winner Carrie Underwood has just released her very first Christmas album, "My Gift."
Underwood released the single "Let There Be Peace" back in August, after announcing the upcoming album during the summer. In total, the record consists of 11 songs, three of which are originals. Featured on the album is fellow chart topper John Legend, as well as Underwood's oldest son, five-year-old Isaiah Fisher.
In true Carrie Underwood fashion, each track uniquely displays her mellifluous vocals. Unlike many celebrities who have released Christmas albums within the past few years, Underwood chooses to focus more on the traditional aspects of holiday music over pop sounding tunes. Per usual, she really allows her voice to be the focal point of the album.
Although there is a song or two that gets slightly more upbeat, Underwood's "My Gift" is a very traditional holiday record, which would be perfect background music for dinner on Christmas Eve. But if you're looking for bubbly music to jazz up your family's annual Christmas party, this might not be the go-to for you.
Overall, Underwood received favorable reviews on "My Gift." Some critics mention the somber tone of the album but that is to be expected as many Christmas songs in their traditional forms are quite slow and religious, making it evident that Underwood chose to focus on the true meaning of Christmas in her debut holiday album.