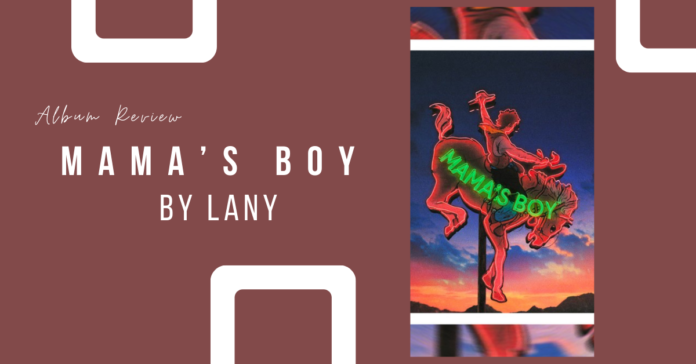 Back in action with their third studio album, Los Angeles based band LANY presented "Mama's Boy" on Oct. 2 of this year. The 15 track album is an ode to hometowns, childhoods, and young memories that become imaginable through the beats of the songs. The trio began teasing fans back in April of this year with the announcement of the upcoming album and periodically released singles "good guys," "if this is the last time," and "you!" up until the debut of the album earlier this month.
Despite the name of the band being an acronym for "Los Angeles New York," "Mama's Boy" actually centers on places much more southern than the two coastal cities. Lead singer Paul Klein's hometown of Tulsa, Oklahoma, and the band's origin city of Nashville, Tennessee, inspire a lot of the lines referencing the traditional values that shaped how they were raised.
LANY's signature alternative rock sound is still very present in "Mama's Boy." The album, though predictably sounding much like their past two albums, does include a few surprising tracks that showcase some of the tricks LANY happens to have up their sleeve. "i still talk to jesus" presents Paul's voice accompanied by a gospel choir, while "cowboy in LA" features lines reminding fans that while you might be able to take Paul Klein out of the South, you can't take the South out of Paul.
Lead singer Paul Klein wrote in an Instagram post about the band's vision for "Mama's Boy": "I'm from Tulsa, Oklahoma…a place commonly referred to as a 'flyover state'—never noticed, hardly talked about, rarely remembered…But the older I get and the more life I live, I understand that everything I am today is because of where I'm from…I always wanted something different from Oklahoma, and that desire drove me to work hard at music so I could eventually see the world. But now that I'm in the middle of realizing and actualizing my dreams, I've developed a deep appreciation and love for the place that built me."
The same emotion in Klein's statement is woven through every track on "Mama's Boy." A clever and thoughtful synth-pop soundtrack, "Mama's Boy" is a trustworthy choice for all alternative music lovers.