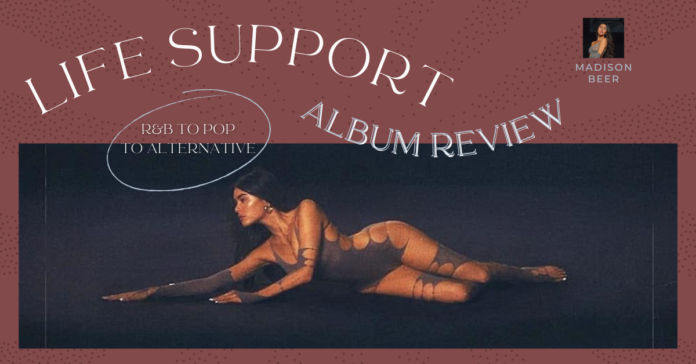 From posting covers on YouTube to then being recognized by Justin Bieber, Madison Beer's rise to fame can be credited to social media. This rise in popularity allowed her to put out her debut album, "Life Support" with a major record label on Feb 26.
It's clear from the lyrics that this album is extremely personal to Beer. While some of this album's songs discuss some superficial subjects, Beer goes into detail about her struggles with mental health. In "Stay Numb and Carry On," the lyrics, "The world is mad and they say I'm the crazy one, So I just stay numb and carry on, Too young to hate someone" are filled with emotion, capturing her experience of shutting down after having to face hardship. It's moments like this in the album where Beer's lyricism feels very diaristic as she attests to her feelings throughout her mental health journey.
It's evident that Beer is still trying to figure out her sound and what she wants to say with her music on this album. There are moments where she experiments with R&B and indie sounds but instantly goes back to her pop origins.
The one song that actually incorporates the words "life support" is the track titled "Emotional Bruises." With this song, Beer compares a relationship to the physical health of a person and describes going back to a partner as relapsing. Beer also compares ending a relationship to cutting off someone's life support, suggesting there's nothing anyone can do to help save the relationship.
A great introduction for Beer, this album gives insight into who she is and what she wants to do as an artist. Despite there being some interesting stylistic choices and inconsistent messaging throughout the album, it deserves a solid listen.