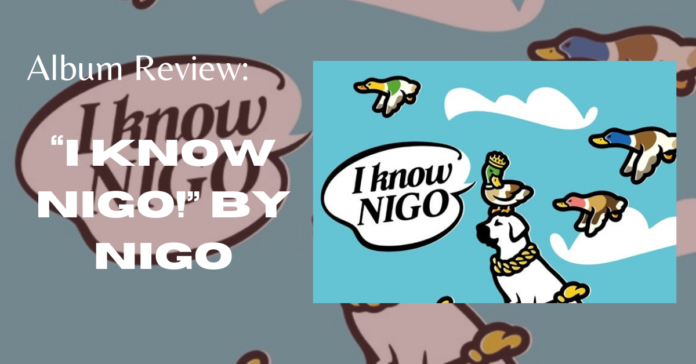 Do you know Nigo? BAPE founder and designer Nigo makes his name known in the music realm with "I know NIGO!" This collaborative album includes well-known hip-hop artists such as Tyler, The Creator; A$AP Rocky; Pusha T; Kid Cudi; Lil Uzi Vert; A$AP Ferg and a few others.
The 11-track album ranges from chill freestyle rap to hype, hip-hop beats that you could picture rolling around Houston listening to. A notable mention about Nigo's work is that each track matches the featured artists' sound – for example, "Heavy" features Lil Uzi Vert, and it doesn't sound like he was forced to be on it. It sounds like it could come straight from one of his previous albums. In addition to this, you can really hear the switch between artists and their vibes on each track.
"Lost and Found Freestyle" takes inspiration from the video game, GTA's soundtrack. The combination of Tyler, The Creator and A$AP Rocky's rap expertise is unmatched.
From Japan, Nigo makes a point to bring his own culture into the mix. "Morë Tonight" is a special inclusion in this collection of songs because it features the Japanese hip-hop group, Teriyaki Boyz. This track is filled with beats that could also be mistaken for pop, and it's a song that you're gonna want to dance to.
"Want It Bad" with Kid Cudi was the first song to come out as a single prior to the album's release. It set the precedent for the rest of the tracks. If you like the sound of this song, there's a good chance you'll appreciate most of the album.
"Functional Addict," featuring Pharrell Williams and Gunna has a mellow beat that transitions into a heavenly chorus. But beware! This song has the potential to get stuck in your head.