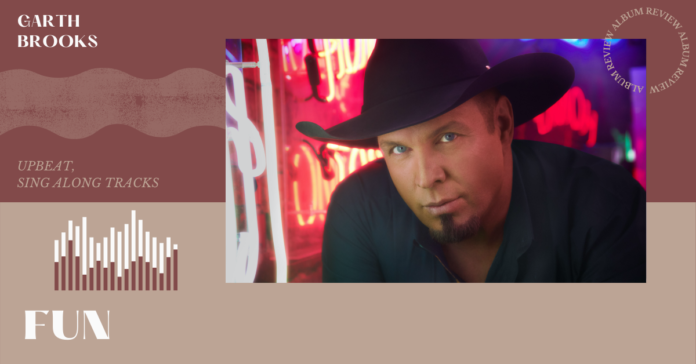 With warmer weather and longer days ahead of us, we could all use a little bit of fun in our lives! And that's exactly what Garth Brooks delivers in his latest studio album. Featuring a variety of feel good tunes, loud bangers, and a few love songs, Brooks' 15 song album "Fun" delivers a wide array of music that fans of his, both old and new, are sure to enjoy!
In the first three minutes of the album, Brooks kicks it off strong with "The Road I'm On," an upbeat, country rocker song that describes the late nights and long drives that come along with touring, as well as the blood-pumping adrenaline and joy he feels each time he gets to perform somewhere new.
In "Stronger Than Me" Brooks changes pace and slows things down a bit with a personal love letter to his wife Trisha Yearwood that doubles as a thank you letter to all the strong women out there who help make those around them better.
Contrast that with "Pardi Gras," a cheerful song that will make you want to clear your schedule, load up the car, and head down to New Orleans for some gumbo, crawfish étouffée, and of course beignets from Cafe Du Monde.
Channel your inner islander with "Message in a Bottle," a reggae style song full of steel drums, horns, and a beat that will have you swaying along for the full four minutes.
While this might be Brooks' 14th album, he still manages to deliver the upbeat, sing along tracks that his fans have come to know and love over his impressive thirty-plus year career. Serving as the perfect summer background track, you are sure to have a lot of fun whenever Garth Brooks songs are involved! 
Source: Fun