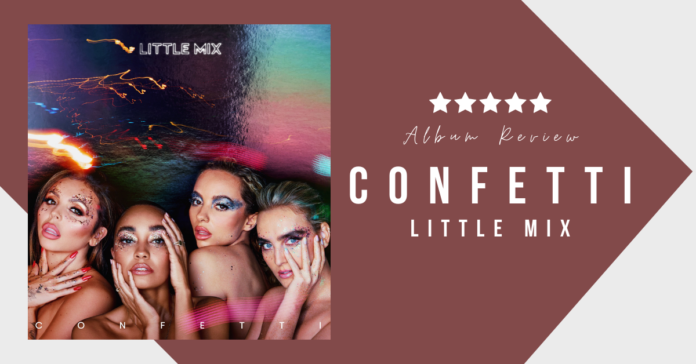 Girl group Little Mix has been cranking out hits since their formation in 2011, and their latest studio album, "Confetti," carries the same energy. Their powerful voices and strong beats blend together nicely to produce an album that emerges onto the music scene with force.
"Confetti" is the group's sixth studio album. Comprised of four members, Little Mix is one of the best-selling female musical groups of all time, having sold over 50 million records worldwide. They were formed on the show "The X Factor," much like other popular bands such as One Direction. But with six albums and six tours under their belt, Little Mix isn't slowing down or stopping anytime soon.
Many of the songs on "Confetti" sound rather similar, which is no surprise, as Little Mix, like many bands, tends to have their own signature sound: very pop powerhouse. This is not necessarily a bad thing to have similar-sounding songs; it all depends on the listener's preference. But "Confetti" does offer a couple of unique tunes that definitely stand out from the rest of the track list, most notably, one particularly slow ballad called "My Love Won't Let You Down," and another pop track called "Break Up Song" that sounded like it was straight out of the '80s with its musical influences.
All in all, "Confetti" is a pretty good album, especially for pre-existing fans of Little Mix. If you're new to the group or are in a musical rut, however, "Confetti" might be good for that, too. With the sampling selected, it would serve as a decent introduction to the group. Check it out wherever you get your music!