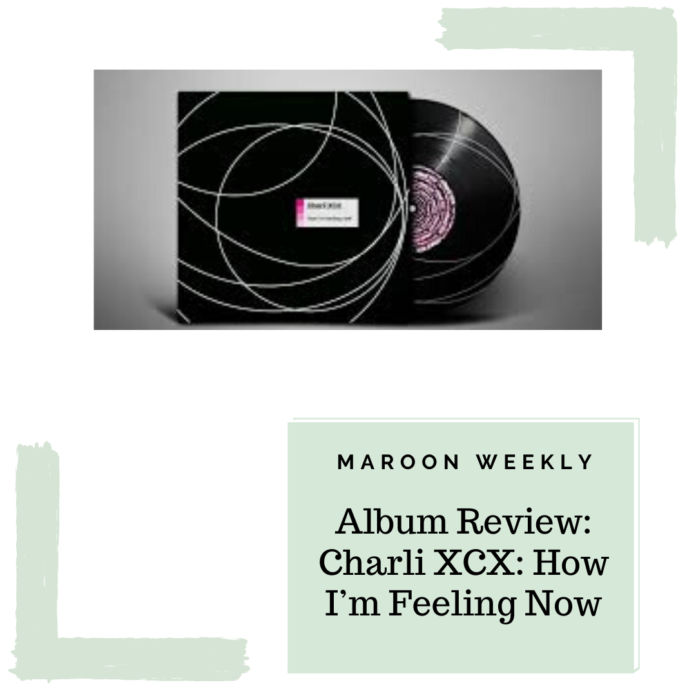 While the speed of modern technology often means music can reach its audience surprisingly quickly, rarely has an album so perfectly mirrored the moment as British electro-pop star Charli XCX's newest album "how i'm feeling now" has; this album has been developed, written, and recorded in its entirety during the 2020 COVID-19 quarantine. Composed with help from her fans — she would often post demo vocals and lyrics on her social media accounts and ask for critiques through Zoom meetings — Charli set herself a release date of May 15, and she just barely made it in time!
"how i'm feeling now's" songs are, then, intentionally relevant to our shared moment. In "anthems," a track about desperately wanting to escape the walls of her home to party with her friends, she sings "Wake up late, eat some cereal / Try my best to be physical / Lose myself in a TV show / Staring out to oblivion / All my friends are invisible / Twenty-four seven, miss 'em all." Aside from dealing with the familiar feelings of being trapped in place, another important aspect of this pandemic is who we are sheltered-in-place with. Many tracks on "how i'm feeling now" — such as "forever," "claws," "7 years," "i finally understand," and more — deal with Charli's relationship with her boyfriend, who she has gone through quarantine with.
While many of these songs have a homegrown quality about them, they still retain her usual polish and uncanny pop sensibilities. In all, Charli XCX's "how i'm feeling now" is an album so tailored to the moment we are going through that years from now, we might listen to one of these tracks and remember, whether fondly or with horror, the first half of 2020.
Sources: Lyrics from: https://genius.com/albums/Charli-xcx/How-im-feeling-now