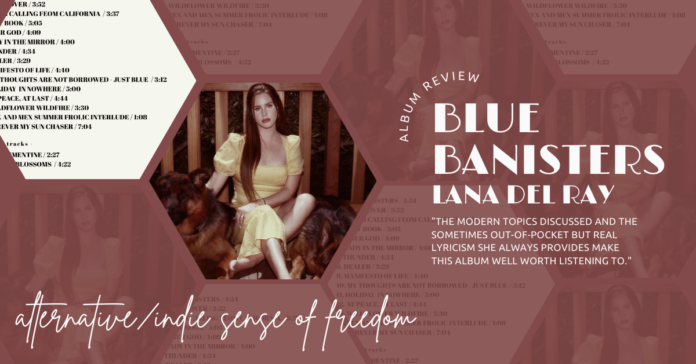 Especially over the past year and a half, artists and listeners alike have used music as a way to cope with unsure feelings about the world around us. Lana Del Rey is no exception, and has put out her second album just this year. A mere seven months after the release of "Chemtrails Over the Country Club," Del Rey released her eighth studio album, "Blue Banisters" on October 22.
After her somewhat controversial release of her previous album, Del Rey soon posted to her social media that a follow-up album would soon be released entitled "Rock Candy Sweet." As we now know, that title was then changed to "Blue Banisters" and was released much later than she had previously announced. However, these changes are well worth the wait as Del Rey puts out an album that feels more personal to her and free from the aesthetic mold she typically places herself in. This album talks about modern struggles she has faced such as being on Zoom, visits to Target, and the sense of being lonely during the pandemic.
Vocally, this album might be the most interesting project Del Rey has put out. With most of her discography, she consistently sticks to a similar sound. One of the largest criticisms from her previous album was the vocal choices made on the song "White Dress." It was different, and many viewers were left on the fence about how they felt about this interesting choice by Del Rey. The decisions made with her voice on "Blue Banisters" really paid off as listeners were able to hear her vocal range by the use of different techniques like yelling, belting, falsettos, whispering, and even having a vocalized interpretation of a guitar solo.
One moment that truly stands out on the album is the "Interlude – The Trio." It is unlike anything else on the album and during a first casual listen, it surprises listeners and leaves them wondering how it coincides with the rest of the album. Its shocking sound very early on leaves people on their toes the rest of the album.
The album's closing song was co-written by Del Rey's father and sister, again showing how personal this project is. The song sounds magical with its piano melodies, but its lyrics, "You name your babe Lilac Heaven After your iPhone 11, 'Crypto forever,' scrеams your stupid boyfriend," can't help but make listeners laugh as this doesn't sound like the poetic lyricism we have come to know from Del Rey. However, these lyrics seem to be a way to tease her family members with personal meaning.
"Blue Banisters," though, sounds similar to what we expect from Del Rey. The modern topics discussed and the sometimes out-of-pocket but real lyricism she always provides make this album well worth listening to.