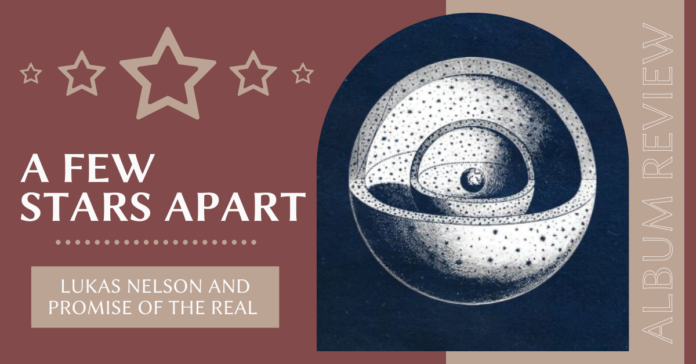 Southern rockers Lukas Nelson and Promise of the Real are back to business with their 7th studio album, "A Few Stars Apart." Through a new sound and heartfelt lyrics, the 11 track pandemic-inspired album reflects on Nelson's newfound self-discovery and reconnection with life's simplest pleasures that echoes themes and feelings we all experienced in 2020.
With a dad named Willie Nelson and a storied family history of musicians, Lukas Nelson has proven himself as more than his father's son. Last making major headlines for the group's role in Bradley Cooper's remake of "A Star is Born," Nelson and POTR are heading into this new chapter with full momentum after coming off the successful 2020 album release of "Naked Garden" and getting back on the road again as restrictions continue to ease. Whether they were playing their own shows or backing Neil Young at festivals across the world, the group found themselves in an odd period of stillness during lockdown that gave them time to bond and return to a more personal style of writing that is evident in songs such as "We'll Be Alright" and "Hand Me A Light."
Though the album is filled with many highlights, it felt a bit one-dimensional. At times it sounded too contained and far from their usual brand of music. The absence of their usual electric sound can be felt as there are moments where a build up leads to nothing special in place of what would have normally been an impressive jam. Ballads dominate the album with the exception of "Perennial Bloom" and "Wildest Dream" that give listeners a return to the sound that brought the group to fame. Though a number of songs all sound similar, if you listen deeply, you'll hear that each song has its own personality and hopeful theme of reflection.
It's a bit different from what has been expected from them but if anything, the album highlights Nelson's incredible songwriting abilities and mastery of different styles of music. It's no question that Nelson continues to lead POTR in a similar fashion to what made his father so successful: by doing it his own way.
Sources: