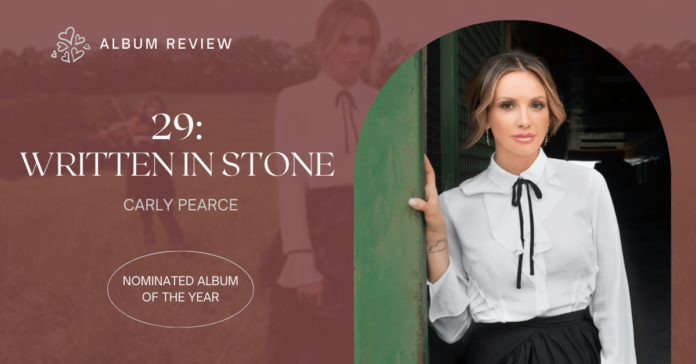 Carly Pearce doesn't hold back with her latest album, "29: Written In Stone," as there's no secret to who her album is aimed at with her honest and raw lyrics. This album clearly gives listeners a glimpse of what led to her short-lived, eight-month marriage with her ex-husband, country artist Michael Ray.
The album consists of 15 songs that for the most part talk about her heartbreak with her divorce all while showing the strong woman she has become on the other side. Her song, "Next Girl" has made Billboard Country Music charts with its upbeat take on what it's like dating someone who can appear charming on the outside but in the end reveals their true colors. One of the most insightful songs is "29," portraying Pearce's life over the past year, revealing internal dialogue of where she thought she would be at this stage of her life versus the cards she was dealt.
Overall, the lyrics are very personal and put Pearce's personal thoughts on display for the world to hear, and it's clear Pearce used this album to cope, process, and heal from her emotional year. Despite the more serious content in the album, Pearce's openness has benefitted her greatly as her career has gone to the next level.
Winning Country Music Association's Female vocalist of the year and with "29: Written In Stone" being nominated as album of the year, Pearce is making history in her career and finding her voice despite the circumstances. This album is most definitely one for the girls and has plenty of heartbreak anthem songs to choose from to either put you in your feels or get you back in the dating scene to find a man worthy of your time.