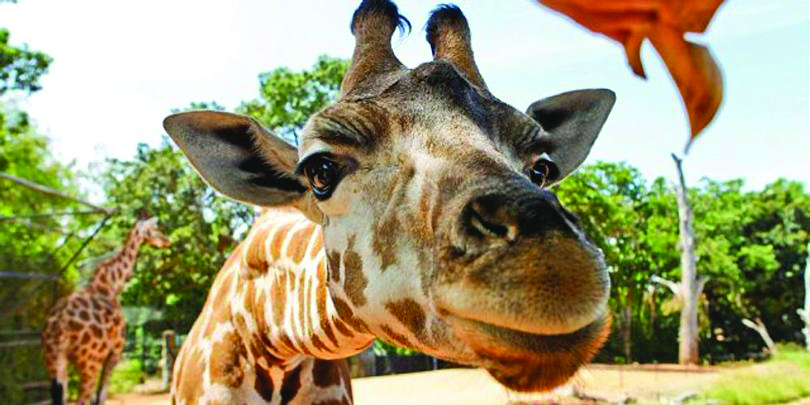 Lions, tigers and bears! Oh my! For the first time ever, Aggieland is getting its own Animal Kingdom! Opening in Bryan on May 9, the Aggieland Safari Adventure Zoo and Park features many animal attractions for all to enjoy. Tickets are available on their website now.
Come down and visit the Adventure Zoo that features 20 acres of different animals from all over the globe. The 'safari on foot' option allows for guests to experience an up-close view of the furry four-legged creatures, such as giraffes, zebras, and even goats. Along the way, you'll have the opportunity to feed many of the animals, including otters, kangaroos, and tortoises.
Don't feel like tromping through the dirt? Just bring your own wheels for the drive-thru safari. Spread all around the 250 acre property, over a hundred exotic animals of all shapes and sizes will delight guests. You'll be able to experience a personal visit from many of the animals, such as deer, emu, and wildebeest. Grab a bucket of feed and roll the windows down to enjoy a friendly visit from the animals, right from the comfort of your vehicle.
The adventure park welcomes the little ones. With a petting zoo and a playscape, the kiddos will be able to romp around the grounds as they play games and meet the zoo's furriest friends. Once playtime is over, visit the Savanna Grill to grab a bite to eat and enjoy the sunset overlooking these majestic animals.
Tickets are now available through the Aggieland Safari website. Adult tickets start at just $22.95 and include entry to the Adventure Zoo and the Drive-thru Safari. Active Duty and Military Veterans receive a discount at the gate. Buy online to save during the FLASH SALE on tickets before opening day!
For more information and/or to purchase tickets, please visit:
https://bit.ly/2VfxJen