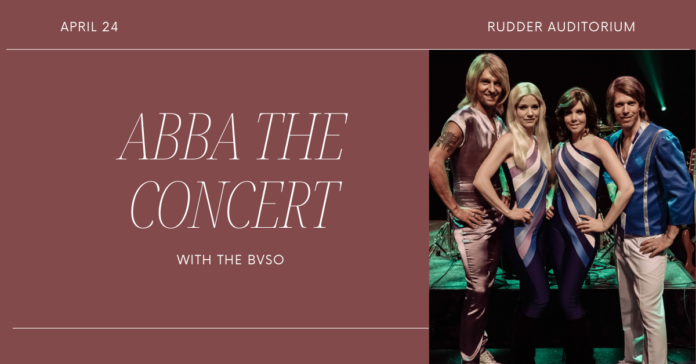 What would you say if someone told you that you could be a dancing queen for one night, right here in the Brazos Valley? Lucky you, because ABBA the Concert will take the stage and fill Rudder Auditorium with the sounds of the 70s and 80s on Sunday, April 24.
This top tier ABBA tribute group will be performing alongside the Brazos Valley Symphony Orchestra for one amazing night filled with ABBA's famous hits. This magical and uplifting performance will take you back to the glory days of Mamma Mia with songs like "Gimme Gimme Gimme," "Mamma Mia," and of course, "Dancing Queen." Imagine ABBA tunes on an even grander scale as the entire symphony joins in and the music swells. ABBA The Concert and the BVSO will amaze your ears as they all play some of our favorite hit songs!
Tickets can be bought online at the Texas A&M University Box Office. Prices range from $25 to $105, based on where in the auditorium you wish to sit. The performance starts at 5 p.m. Don't miss the opportunity for a perfect Sunday evening performance! Join in the fun, and remember what it feels like to be 17 again!