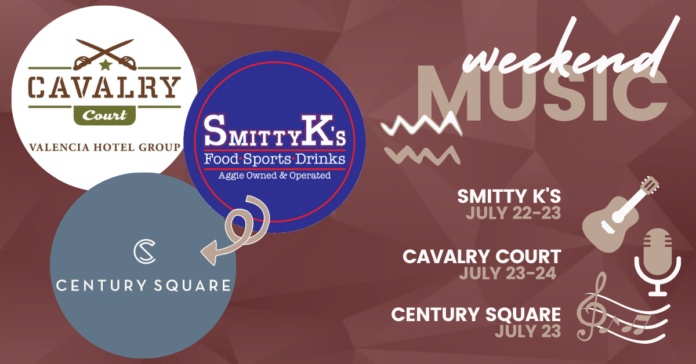 Summer nights in College Station are never boring with all the great options for live music to choose from! Here's the lineup for an awesome musical weekend:
On Thursday, July 22, country singer Max Stalling takes the stage at Smitty K's. Stalling is practically a BCS native, having earned both a bachelors and masters degree from Texas A&M in his youth. With brass-like vocals and smooth guitars, he plays classic country the way it's meant to be. The show is scheduled for 8 p.m. and tickets can be purchased online for $20.
The next night, July 23, Smitty K's will host College Station's own Southern Degenerates. This four piece band is made up of Aggies who like to play a little bit of country and a little bit of rock 'n roll. The show starts at 8 p.m.
Located in Century Square, Cavalry Court boasts a reputation for being one of the best hotels in the BCS area. One of its key amenities is the Canteen Bar and Grill that features live music nearly every weekend. On Friday, July 23, Drew Moreland is scheduled to perform at 7:30 p.m. Moreland, a San Antonio native, plays a heartfelt style of country music that works as the perfect soundtrack for a summer night in College Station.
On July 24, Morgan Ashley takes the stage from 7:30-8:30 p.m., followed by William Beckmann from 9-10:30 p.m. Ashley, a College Station native and winner of the 2021 New Female Vocalist Award for the Texas Regional Radio Music Awards, will wow you with her powerful voice and clever lyrics.
Beckmann, despite being only 26 years old, has a deep, melodic voice that passerbys might mistake for David Allen Coe. Beckmann's music has both American country and Mexican roots, which give him a unique and memorable sound.
On Friday, July 23, Central Texas musician Alexis McLaughlin will be performing from 7-10 p.m. McLaughlin has been described as an up and coming music sensation with a sound that is part Patsy Cline, part Janis Joplin. The concert is free, so come grab a bite to eat at one of the many nearby restaurants and then sit down on the grass to enjoy some live music!
With so many great performances to choose from, it's sure to be a fun weekend out on the town in Brazos County!