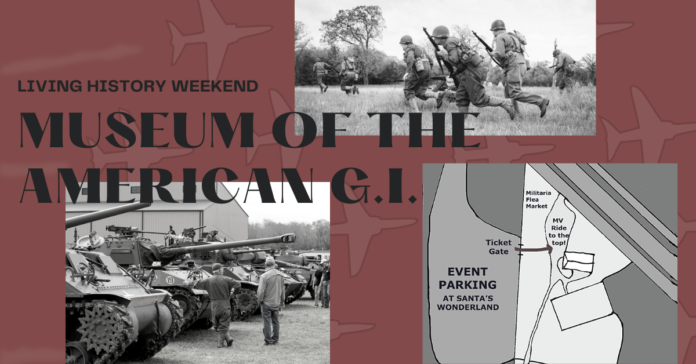 Travel back in time to the World War II era this month at the Museum of the American G.I.'s Living History Weekend! This family friendly event is the largest of its kind, and visitors come from all over the country to view living history displays, shop in the military swap meet, and witness battle reenactments. Head on out to Living History Weekend on March 27 and 28 for the 21st anniversary event!
Because it's the 21st anniversary of the Living History Weekend, there will be more battles, more tank rides, and more living history displays than ever before! When you arrive at the museum property, you'll take a ride in WWII 2 1/2 ton CCKW or a modern HUMVEE to the reenactment fields where all of the activities will happen. You should also take advantage of browsing through the militaria vendors to take a small piece of history home with you.
The Museum of the American G.I.'s website includes the detailed schedule of the weekend's events. Stroll through living history camps for both Axis and Allied armies, see original equipment and uniforms, and let the passionate historians transport you back to the days on the battlefield. There will be quite a few opportunities throughout the day to see both WWI and WWII battles reenacted as well as take a vehicle ride or trench tour. There will also be paid opportunities to shoot a paintball adapted machine gun and the museum's 75mm Pack Howitzer. Since all these battles and tank rides are sure to wear you out, you can grab a Chick-fil-A sandwich, a hot dog from Grill Sergeant, or tacos Raging Bull Street Tacos when you're ready for lunch. Top it all off with a cool snow cone from Kona Ice, too!
Free parking is available in Santa's Wonderland Blitzen lot as there is no parking on site. One Day Tickets are $13 for adults and $7 for kids ages 5-11. Children under the age of five are free. Two day tickets are $22 for adults and $12 for kids. Masks are required for vehicle rides and in areas where it is not possible to social distance.
For more information about Living History Weekend, prices of activities, and a FAQ list, visit the Museum of the American G.I.'s website.