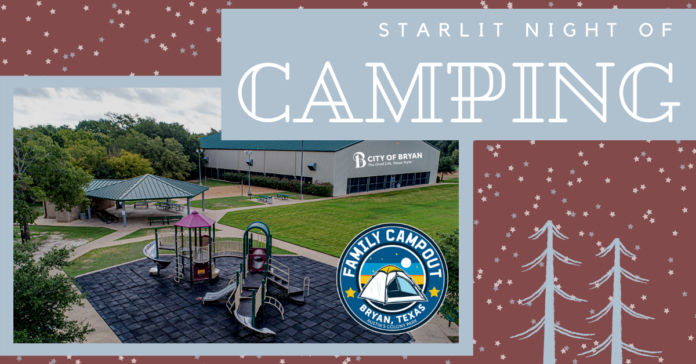 Dust off the ol' camping tent, grab your sleeping bags, and round up the whole family for a weekend of fun at the annual Bryan Parks Family Campout, hosted by Bryan's Parks and Recreation team. This annual campout brings you fun and games, complete with a movie under the stars at Austin's Colony Park from 3 p.m. on Saturday, April 24, to 9 a.m. on Sunday, April 25.
Attending the Family Campout is a great way to introduce young kids to camping! It's just one night long, the food is provided, and you'll even get to enjoy a special starlit showing of the movie "Missing Link." What more could the kids (and their parents) ask for?
Gwynne Shillings, events coordinator for the City of Bryan Parks and Recreation Department says, "Bryan Parks and Rec will also be providing water, dinner and dessert on Saturday night, and a light breakfast on Sunday morning." Dinner will be hot dogs and chips with s'mores for dessert, and they recommend you also bring a few of your own favorite snacks.
There's no shortage of fun to be had since the Parks and Rec team will be providing game equipment for you to check out for use during the campout from basketball, volleyball, cornhole-you name it! "Activities will be more of family hands-on activities, and each family will be provided an activity bag upon check in," adds Shillings.
In order to accommodate COVID-19 restrictions and to ensure everyone has the most fun as safely as possible, campsites will be spaced further apart than usual. Provided meals will be dropped off at each campsite as well.
You can register for the Family Campout here or call 979-209-5528 Monday – Friday from 8 a.m. to 5 p.m. The price for pre registration is $7 for adults and $5 for kids age 12 and under. Day-of registration costs $10 for adults and $7 for kids age 12 and under, if availability permits. Assistance will be provided for unloading/loading your vehicle. If you do plan to register the day of at the park, be prepared to pay cash or check, as cards will not be accepted. Masks will be encouraged at check in, however, once you are socially distanced within the park, they will not be required.
For more information about the Family Campout, visit the City of Bryan's website or their Facebook page.