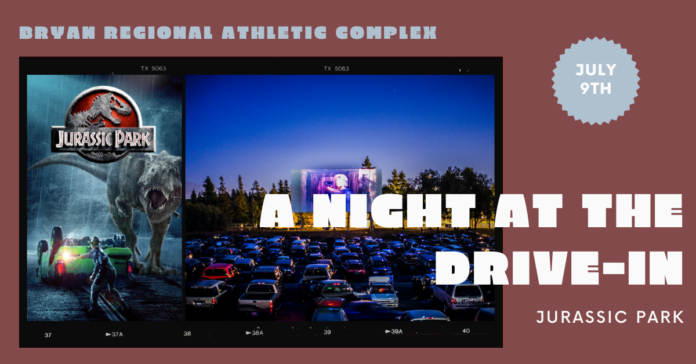 Do you remember ever going to a drive-in movie? Or hearing your parents talk about them? Maybe you went with your sweetheart or good friends. Maybe you were the rambunctious child begging your parents to go. Maybe, the memory of a drive-in is just a story someone told you. Whatever the case may be, there's something nostalgic and warm about seeing a movie in a parking lot. This month, the City of Bryan is giving you a chance to live this experience again (or for the first time) at their yearly celebration of National Parks & Recreation Month on July 9 with a drive-in movie!
For only $5 a vehicle, you will be able to view the film "Jurassic Park" at the Bryan Regional Athletic Complex. The gate opens at 6:30 p.m., while the movie is set to start at dusk, about 8:30.
This time gap gives a couple of hours to grab concessions, get settled, and even have a dance-off! That's right, event sponsor Suddenlink will be hosting a kid's dance-off before the movie with fun prizes! And if that's not enough to get excited about, several vendors will be there with food and snacks, including "Mr. Hamburger," "Kona Ice," "What's Good" ice cream sandwiches and kettle corn.
And since we know how awkward it can be going to a new event involving a large number of other people, here's the rundown of how the venue will be set up. Attendees can drive into the Bryan Regional Athletic Complex from any entrance, where signage will direct them to the entry gate near the soccer fields. Once there, visitors will pay the $5 cash entry fee and be directed to the parking area. At this point, participants can take their place in front of the 40-foot screen and partake in the pre-movie activities. Once it's time to get the film rolling, audience members can pull up a lawn chair or watch from their cars using their radios. All making for an exciting evening celebrating our parks and recreation facilities!
National Parks and Recreation Month has been celebrated in July since 1985. The purpose of this month is to "sell" people on recreation. And what better way to do that than with community-building events that join people together to have fun!
Our parks may not be filled with dinosaurs, but this sort of event helps show how national parks and public recreation centers have a way of bringing a community together. Humans are social animals. We need time to interact with others and play. And really, that's what this is about. Celebrating life, fun and each other.