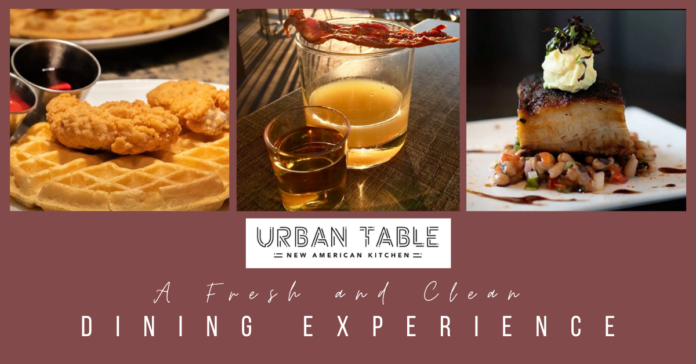 The dining out experience has certainly changed a measurable amount since last spring, but local restaurant Urban Table is creating new ways to restore normalcy back to restaurant dining as well as creating a new dining experience of their own. Located in south College Station, about 15 minutes from the Texas A&M campus, Urban Table has proven to be quite the addition to the BCS community since its opening last year.
Urban Table is a part of the Chef Tai Lee restaurant group and is intended to serve as College Station's "new American kitchen." Chef Tai says, "It was designed to send an urban vibe, both in the special design of urban American towns with a twist in modern American Cuisine." A look at the menu at Urban Table shows that the restaurant does feature plenty of American classics—pulled pork sandwiches, fries, and burgers—but they're all elevated by being combined with unique ingredients to offer a fresh take on American favorites. "We really try to bring some creative and fun aspects to the dining experience," Chef Tai adds, "and we feature our take on seafood and steak with trending spices or adding a modern look to something as simple as pork belly."
Urban Table effortlessly blends their culinary innovations with the atmosphere of the restaurant to bring the unique dining experience full circle. "We offer two floors of seating, where the first floor is designed more for family-friendly dining. The upstairs is a more fun and energetic environment with a great view of College Station and the bustle of our bar, pumping out delicious cocktails and wines," Chef Tai says. "The food and drinks we serve are all crafted with high quality ingredients you would expect from higher caliber restaurants, but our team brings fun and friendly service without any pretentious behavior. It is really designed to bring a casual urban atmosphere with great food and drink."
Urban Table has just installed an air purification system in their dining room that kills 99% of coronavirus germs in the air by installing the system into the central HVAC system. Created by Global Plasma Solutions, Urban Table's system makes use of Needlepoint Bipolar Ionization, which does not produce harmful byproducts or ozone. "We installed the system to truly offer an additional layer of dining safety and peace of mind," Chef Tai says. Urban Table and Chef Tai's newly opened restaurant, Sôlt, are the only two restaurants in the BCS area with this purification system installed, truly creating a safer dining experience for guests.
Chef Tai wants to do everything he can to bring back the sense of normalcy and routine that existed before the pandemic, and these extra layers added to the operational side of things can bring back the normalcy without sacrificing safety. "Our restaurants are thoroughly cleaned and sanitized. Our water lines are all filtered. Now we purify the air we breathe," Chef Tai says. "With the world as uncertain as it is in 2020, we wanted to go above and beyond to restore a basic level of consumer confidence."
Urban Table cleverly marries the ideas of a creative high quality menu with an affordable and casual dining experience. The atmosphere of the dining room is inviting and accommodating for a family dinner, date night, or just grabbing a drink. Service at Urban Table, and all of Chef Tai's restaurants, is exceptional. The staff is accommodating, offers great suggestions, and is very personal. Urban Table has also just launched their menu with specialty items for the fall, and they update it seasonally to keep things fresh. "There is something for everyone in our unique seasonal menu and variety of mediums to enjoy our food and drink service," Chef Tai says.
Urban Table offers various convenient dining options from indoor and outdoor dining, an upstairs bar and patio, online ordering, delivery, and curbside takeout. It's located off of Barron Road in south College Station and is open every day. Though it might not be brand new to BCS, Urban Table consistently brings creative and never-before-seen dishes every season.
Connect with Urban Table on Facebook, Instagram, and Twitter.
Sources:
Interview with Chef Tai Lee