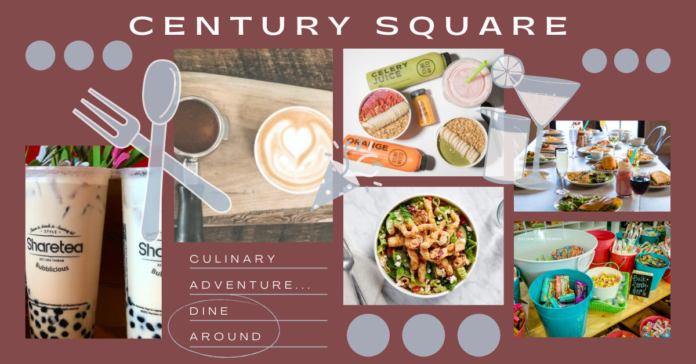 As the BCS area grows, there continues to be an abundance of restaurants to try out, and here's your chance to to sample a menu item from the different establishments located in Century Square! On Saturday, May 15, 2021 from 5:30-9 p.m., Visit College Station is partnering with Century Square to host their event Dine Around Century Square, a "casual dining experience of a lifetime."
With free samples from almost every restaurant located at Century Square, this evening will tempt you to try out everything! Maybe start with an appetizer and a before dinner sip of something delectable from 1791 Whiskey Bar, The Canteen or Mo's Irish Pub. And be sure to welcome College Station's newest Tex-Mex restaurant, Juanita's Tex Mex Cantina, by sampling their Mexican Margarita. If you're not looking for alcoholic beverages, try out Clean Juice's Organic Juice Samplers, Hey Sugar's Sodas or Sharetea's Fruit or Milk Tea samples.
Then let the main course begin! In the mood for a sample of Piada Italian Street Food's Carbonara Pasta with Grilled Chicken? How about a bite of Hopdoddy's juicy burgers? Maybe tour the globe a little and pick up samples of Pokeworks' Hawaiian Ahi and Sweet Sesame Chicken. Then come on back home to Texas with I Heart Mac & Cheese's Mac Bites and cookies and PORTERS' Carnitas Tacos. There's bound to be something delicious for everyone!
And of course there's dessert! Why not try them all? Sample Harvest Coffee's Lemon Bars, Tiff's Treat's Cookies and Sweet Paris' Sweet Crepe Bites. Then finish the evening off with some of Hey Sugar's candy and chocolate samples and Star Cinema's Popcorn! What a night!
With plenty of outdoor seating on the green, you can kick back and enjoy your food while listening to the live music and map out your route to your favorite stores after you finish eating. The first 200 attendants will receive a branded utensil travel set. Guests who sample all the restaurants will be entered into a drawing for a chance to win a one night stay at The George Hotel, as well as a $50 gift card to The Canteen.
After purchasing your ticket, you'll receive your passport for the evening via email and text. There's no app to download, and you'll want to add the pass to your phone's home screen to make it simple. Then on May 15, head on out to Century Square and show your phone to the attendant every place you stop by. Tickets can be purchased here and are $15 per adult or $8 for ages 10 and under.
Amidst all of the fun, Dine Around Century Square has a greater mission behind it. For every ticket purchased, the full proceeds are going to be donated to the Brazos Valley Food Bank, giving guests the opportunity to help the community while also celebrating a few of the culinary stars in College Station.
For a full list of participants and more information about the Dine Around Century Square, click here.