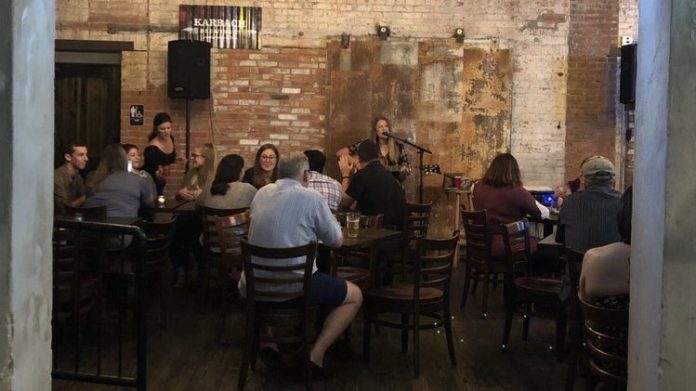 Downtown Brenham, BCS's southern neighbor, is home to a brand new, state-of-the-art music facility, the 4 Star Concert Hall. When the building was discovered by its new owner, John Elford, he knew it would be something special that would bring new life to the city.

Walking through downtown Brenham on a Sunday afternoon, Elford came upon a building in disrepair due to tornado damage. After seeing a sign on the door stating that the building was to be torn down in just two weeks, he jumped at the chance to purchase it. Once he walked in and saw the space, he knew exactly what he wanted to do with it. "It's all about the music," says Elford, who has a musical background of his own.

Elford hopes to expand more into the music business by offering recording and management services to help seasoned and newer artists with their music careers, and you'll often find budding musicians performing on one of the four stages in the 4 Star Complex.

In a small town like Brenham, 4 Star fills a large gap, hosting musicians every night of the week in every genre of music from classical and jazz to rock and country. Elford is excited, saying he hopes the variety of music offered at 4 Star will "broaden the musical tastes of the area." There's no doubt that 4 Star has something for everyone!

On Monday nights beginning at 6:00 p.m., 4 Star hosts Open Mic night, which Elford says has been a real hit. "Open Mics have been really sensational." He continues, "I've had people come from Austin, Houston, and Dallas to play. It's been a unique feature."

In addition to the Concert Hall, Elford found that he was able to purchase the land next to the building and started constructing a restaurant and sports bar. The 4 Star SportsBar is now open, so you and your friends can come together and watch the game any night of the week! The SportsBar is the place to be on September 5 for Bingo Game Night with Fawn and Chase. There will be six rounds and exciting prizes for the winners, and drink specials that can't be beat. Game night starts at 7:00 p.m., so get there early and get ready for some fun!

Inside the Concert Hall, you'll find The SideBar, a fully stocked bar with all your beverage needs and drink specials that can't be beat. After all, what's a Concert Hall without a fully stocked bar? On concert nights, the bar is open only to ticketed customers once shows start, so if you want to come and enjoy a cold drink on the night of the concert, make sure you get your tickets! Guests under 21 are not allowed in the SideBar, but teens 13 and up are welcome into the Concert Hall and SportsBar.

There's a great lineup of concerts to come at 4 Star, including Caleb & The Homegrown Tomatoes on September 6. The band has a unique sound with their blend of Southern Rock and Americana with a hint of Texas Country. Doors open at 7:00 p.m. and the concert starts at 8:00 p.m. General Admission tickets are just $5, and can be purchased at http://bit.ly/2KAUZN3.

Can't make it to town for your one of your favorite artists? No worries. 4 Star even offers live broadcasts of select concerts through 4 Star Live. All you have to do is buy a ticket, sit back, and enjoy the show from the comfort of your own home!

The Concert Hall doesn't just cater to music lovers. Every third Thursday, put on your dancin' shoes and come out to 4 Star for free dance lessons with former Aggie Wrangler Lance Swigert and his dance partner! These lessons cover Country and Western and Jitterbug styles, and are for everyone at any skill level, whether you're a seasoned professional or look like a baby giraffe with roller skates on the dance floor, these classes are for you! Happy Hour takes place from 4:00 p.m. to 7:00 p.m., and lessons are from 6:00 p.m. to 7:00 p.m.

After dance class, stick around for Karaoke Night on the main stage! From 7:00 p.m. to 10:00 p.m., sing your heart out with Kountry Chick Karaoke. Have your favorite jams ready because it's sure to be a great time!

If you're planning a birthday party or special get-together, go with the gorgeous Skyline Room on the upper floor of the Concert Hall. The wide open space can fit up to 50 people! Your guests will love views out the floor-to-ceiling windows that overlook downtown.

For your next date night or football watching party, come check out 4 Star and all that it has to offer! Have some cold drinks and enjoy the evening! You may even see Elford tune up his guitar, plug in and play his own music from time to time.

To check out 4 Star's full schedule of concerts and events, please visit http://bit.ly/2H7Y4Sv.