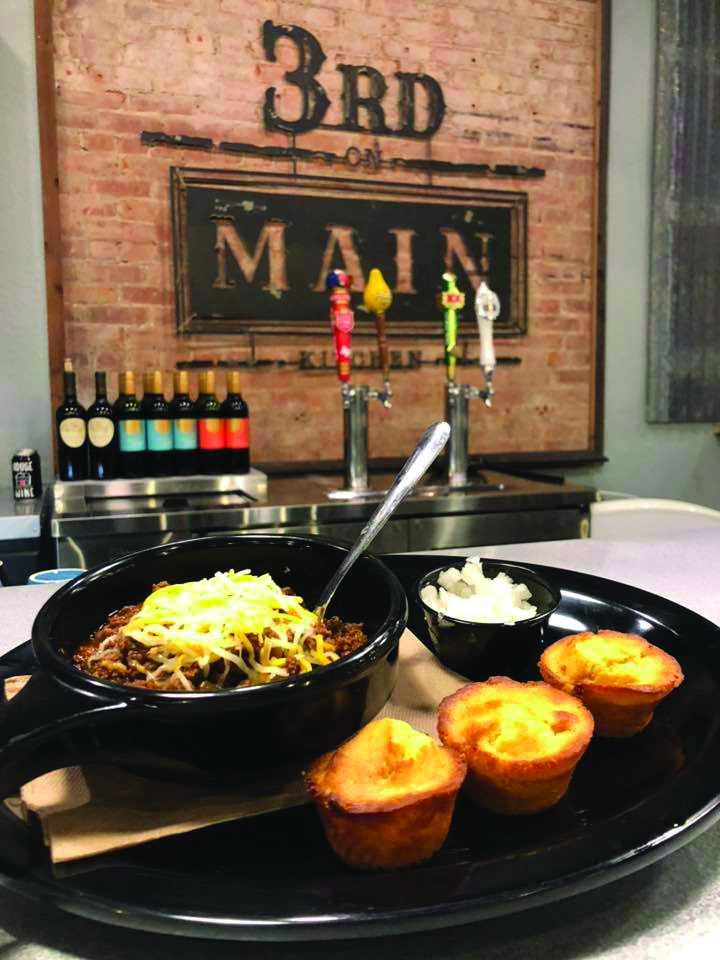 It's that time of year when comfort food comes into its own. When you're longing for warm and cozy, a big bowl of chili hits the spot. And the new 3rd on Main Kitchen in Downtown Bryan is now open to satisfy all of those comfort food needs! This is the third restaurant for owners Wade and Mary Beckman, who own Amico Nave and Shipwreck Grill. They also have a full-service catering business named Admiral Catering that participates in many Aggie and Bryan/ College Station events.

3rd on Main Kitchen has allowed the Beckmans to expand their culinary offerings beyond that of Italian and seafood fare. Mary describes the dishes at their new place as "Americana with a comfort twist." The new restaurant is especially meaningful to her husband, Wade, as the new menu stars his favorite foods and recipes. Wade's a big fan of chili and cornbread, and his dishes are available all day long.

Mary says of the restaurant's location, "We really wanted to be downtown." When the Beckmans  found a location across from the La Salle Hotel, they wanted to make 3rd on Main a place where diners could eat breakfast, lunch, and dinner. Mary found it important to offer their hand-cut fries at every meal. The breakfast menu offers the tasty spuds in addition to items like breakfast tacos and Wade's made-from-scratch cornbread pancakes, which are featured in "The Morning After."

Lunch and dinner offer classed-up classics, like burgers, chili dogs, and pulled pork fries. Those looking for something a little lighter will find sandwiches and salads. The restaurant offers wine and beer. 3rd on Main also features a small retail store near the registers from which guests may purchase gift bags to fill with swag and bottled alcohol.

The Beckmans' new restaurant is truly a family affair. Wade and Mary have two sons who are closely involved in this venture. Collin grew up working in his parents' restaurants and, after graduating from A&M and gaining experience, has opened 3rd on Main as its general manager. His brother, Carson, is a lighting designer who thoughtfully planned the style and lighting of the space. Mary says of the restaurant, "The design and concept is all my younger son, Carson, and myself."

Bryan's rich history is reflected in the design of 3rd on Main, which was formerly a commissary space for a corrugated tin factory and then for a hotel. Mary is happy to continue the location's history by serving food in the remodeled building. She says, "I think it's kind of fun that it gets to tell its story." In light of the building's rich history, the design coincidentally features a corrugated metal accent wall along with a mixture of sleek high and low tables.

The Beckmans are thrilled to open their restaurant in Downtown Bryan. The restaurant's location allows their direct involvement in the town's many events held there, such as First Fridays and the upcoming holiday celebrations. Don't wait for Bryan to put on a show. Check out the new 3rd on Main Kitchen seven days a week! It opens on weekdays at 7 a.m. and on weekends at 8 a.m. From Monday to Wednesday, the restaurant closes at 9 p.m. On Thursday, Friday, and Saturday, it closes at 10 p.m. After offering Sunday brunch, the restaurant closes at 2 p.m.