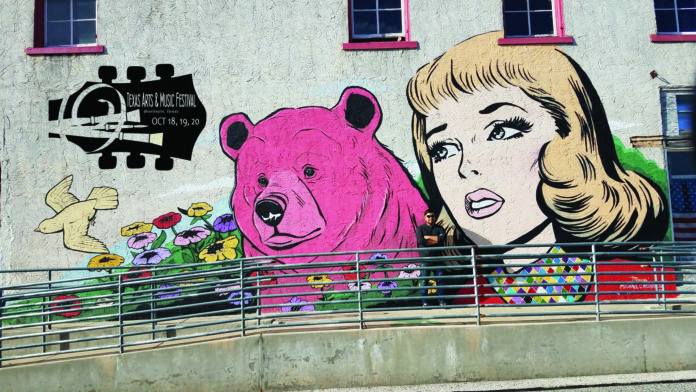 It's rare to see an event that appeals to all ages, but the Texas Arts and Music Festival has been doing just that since 2016, turning downtown Brenham into a mecca of creativity and fun for an entire weekend. Sporting tons of live music, live street art, local vendors, and delicious street food, the 2019 Texas Arts and Music Festival in Brenham will once again delight the whole family on October 18-20.

One of the biggest draws is the great live music from talented regional bands. Starting the festival off with a bang on Friday evening will be the Downtown Dance Party led by the Shekere Band, who will bring their high-energy dance music to Brenham. They have more than a decade of experience in leading shows with their Latin and Carribbean-tinged tracks, so be ready to let loose and dance your heart out!

Saturday's music will start off in the afternoon with a performance from the Brenham Children's Chorus, and after that, cover band The Blue Grooves, who boast a setlist of songs that you'll recognize from any decade, will entertain the festival audience. Sour Bridges will ramp up your afternoon with their "Browngrass" blend of bluegrass and electric guitar. By the time the evening rolls around, you'll be treated to three more top-notch Texas performers, starting with Jomo and the Possum Posse, who combine tongue in cheek lyrics with a honkey tonk sound in an over the top live performance. Right behind them will be 90s cover band Chandler and the Bings, so get those nostalgia glasses on and get ready to time-travel twenty years back! Saturday will close out with a set from Livingston-based Jody Booth and the East Texas Ramblers, bidding the audience goodnight with some good old-fashioned country music. The last show of the festival will be on Sunday afternoon with a performance from the Brown Sugar Band, who will send everyone home with their old school R&B.

But there's more to the Texas Arts and Music Festival than live music! Austin-based artist Helena Martin will be painting a vibrant mural on one of the exterior walls of downtown Brenham. At the same time, local vendors will be there to give workshops to your young ones looking to try their hand at art.

Of course, what would a festival be without delicious street food? The Texas Arts and Music Festival promises not to short its guests on that front and will host a wide range of local food trucks.

The mission of the non-profit Texas Arts and Music Festival, according to their website, is to "present a wide range of Texas arts and music by simultaneously showcasing Texas artists and musicians at various forums throughout the City of Brenham," and all of the festival's profits will go toward educational resources that foster art and music in Texas. The festival has a suggested donation of  $20.00/family or $10.00/person. Don't miss out on the chance to enjoy yourself and support all of the creative people that live right here in the Brazos Valley!

For more info, check out: http://bit.ly/33fQWfi