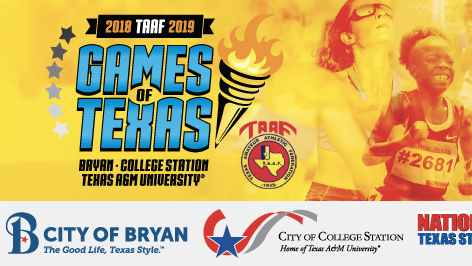 Lace up your sneakers for one of the biggest sports events of the summer! You won't need to go far, because starting Friday, July 26, the 2019 Games of Texas will be in none other than College Station!
The Games of Texas' official title is the 2019 Texas Amateur Athletic Federation Games. Texas is one of 30 states with Games recognized by the United States Olympic Committee as Official State Games, which means medal winners from all over the US will be here to compete. For these young, lifelong competitors, the Summer Games of Texas is the real deal!
Marketing Coordinator of the Parks & Recreation Department of College Station, Kelli Nesbitt, says that the Summer Games is a large-scale event that attracts thousands of visitors. "The Games of Texas may not be the Olympics, but it may be the next best thing, at least in the Lone Star State," says Nesbitt. "As the state's largest amateur sporting event, the popular festival provides an exceptional forum for the state's Olympic hopefuls–along with recreational amateur athletes–to train and compete."
This isn't College Station's first time hosting this grand event, but its seventh, so you can expect the city to hit a bullseye this weekend! On Friday, July 26, the Games kick off with an opening ceremony at the Wolf Pen Creek Festival Site. The festivities will include a parade of athletes, food trucks, and an acrobatics performance! Sports featured over the week range from archery, golf, lifeguard competitions, judo, pickleball and even skateboarding! There's sure to be something for everyone with 13 summer sports featured. So take a chance to see a sporting event of Olympic proportions with these extraordinary athletes. Who knows? You may just find yourself rooting for them at the Olympics someday!
Athletic participants will include children from ages 6 to 18 years old as well as adults over 18, depending on the sport. Admission is free to all events except for Boxing and Track & Field, which will each be $5 per day. ATM machines will not be on-site at Track & Field. Swimming will be $7 per session, and credit will only be accepted at swimming.

As expected with the grandeur of the Games of Texas, all College Station Parks and Recreation facilities and pools will be closed Thursday, July 25 through Sunday, July 28. You should also expect delays around College Station High School those same dates as lanes will be minimized to accommodate parking. Holleman Drive from Dartmouth Street to the former Sears Service Center parking lot will be closed Friday, July 26 from 4-9 p.m.
To find out more about the sporting events being hosted at the Games or for more information, visit https://bit.ly/30y9BBR.