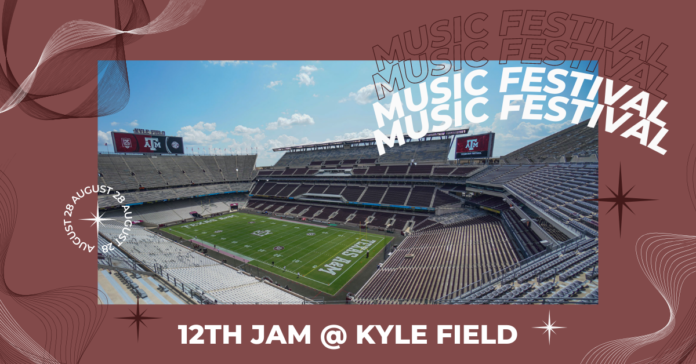 Pack up some picnic blankets and pick out your best summer outfit for Texas A&M's very own 12th Jam Music Festival this Saturday, August 28! 12th Jam is an all day, student-organized music festival put on by MSC Town Hall and Texas A&M Athletics and brought to you by 98.3 KORA.
But if you're not a student, don't count yourself out! This festival isn't just for current Aggies, it's an event meant to bring everyone together before the rush of fall. 12th Jam's Executive Director Heather Haratsis says, "Tickets are available to everyone…community outreach was a big factor whenever we were putting together the festival."
This year, 12th Jam's line-up favors country and indie music, but even if those aren't your favorite genres, Town Hall's Program Advisor Kendall Walker says, "we designed it in a way that speaks to lots of age groups and interest types."
There'll be local vendors and artisans, so if you missed August's First Friday in Downtown Bryan, you'll be able to find some of them at 12th Jam. Food options consist of concessions and a great selection of local food trucks. Thanks to Brookshire Brothers, there'll also be a "cool-off zone" with air conditioning to give you a break from the heat. Oh, and of course a ferris wheel!
You're probably wondering—a country/indie fusion festival? What does that look like? Well, Town Hall made a Sneak Peek playlist on Spotify for your listening pleasure. It gives you a chance "to be prepared to sing along and dance in the audience," says Haratsis.
So, who will be performing? Let's break it down:
Town Hall snagged three nationally touring headliners—Cam, Morgan Evans, and Dayglow—who've all performed on major festival stages. "You can see them with us before you see them at ACL," says Walker, "and for much cheaper."
Country artist Cam released her highly anticipated sophomore album, "The Otherside" in 2020. Cam has now collaborated with big artists like Harry Styles and written songs for Miley Cyrus and Sam Smith. With all the grit and tenderness she incorporates on "The Otherside," authenticity is clearly a priority for her.
Quickly taking on the country scene, singer-songwriter Morgan Evans' rich mellow voice and guitar-heavy music is sure to carry you away. His debut album "Things That We Drink To" made Billboard's 2018 Top 10 Country Albums Chart. He's been named the "Next Big Thing" by MusicRow and "One To Watch" by People. If that doesn't tell you how big of a deal he is, wait until you find out he's toured with Taylor Swift!
Texas indie band Dayglow started 2018 when Sloan Struble wrote the band's debut album, "Fuzzybrain" in his high-school bedroom. Dayglow quickly rose to popularity and claimed the spot for 2020's biggest independent Alternative Hit with the single "Can I Call You Tonight?" The 21-year-old Austin native is a living inspiration for local bands currently trying to get their name out there.
Beyond the headliners are great up-and-coming bands including Luna Luna, Ben Goldsmith, Joe Major, Montclair, and Thirteenth Hour.
Luna Luna brings in some retro-romantic flair. The Dallas band started off in 2017 playing house parties around Texas. Their most recent album "Flower Moon" has a chill electronic sound and cloud-like vocals that make it an easy yet groovy listen.
Walker says to watch out for 15-year-old guitar prodigy, Ben Goldsmith because it'll be "jaw dropping to watch what he can do on a guitar." Goldsmith has already set foot on the stages of Lollapalooza and the Rock & Roll Hall of Fame. He began playing guitar at age six and went on to write and produce his first song at 11…feeling old yet?
Joe Major, Montclair and Thirteenth Hour are student bands, with Montclair and Thirteenth Hour being current Aggies (whoop!). Bop your head to Montclair's fun punk rock sound, float away to Thirteenth Hour's dreamy vocals, and slow dance to Joe Major's latest single "Nowhere Fast." According to Town Hall's Vice Chair, Gracie Tinsley, each of these artists is ready to take on the stage next to some big names. "This is their chance to really showcase their professional side as musicians," she says.
So, come on out and enjoy live music from 1-10 p.m. in Lot 62 next to Kyle Field! Children under two are free, then prices run $15 for ages ten and under, $45 for public, and $112 for VIP access, which gets you complimentary food, access to Kyle Field's  All American Clubs, and a view of the whole festival. Doors open at 1 p.m. and  entertainment ends at 10 p.m. but feel free to come and go as needed, just be sure to scan your tickets out before leaving. Purchase your tickets here and while you're getting ready, don't forget Aggie Athletics' clear bag policy!